From Refugee to Ph.D.: Sanja Jagesic Wins Prestigious Fellowship


Wellesley Senior Will Work To Help Others Struggling to Succeed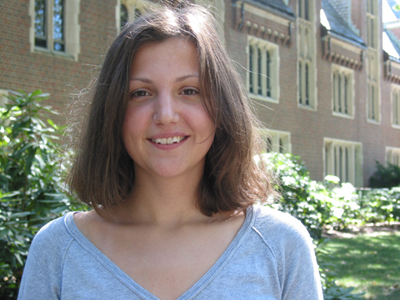 Sanja Jagesic, who came to the United States as a non-English speaking student at age 13, has received a Soros Fellowship to work toward a Ph.D. in sociology. She aims to use her education to help other students.
WELLESLEY, Mass. — Wellesley College senior Sanja Jagesic, born in war torn Bosnia, became a refugee at age 7. Her family fled to Germany, where they lived in one room on a refugee ship for more than five years.

When she was 13, Sanja and her family emigrated to the United States through a relief program. Though she didn't speak English, Sanja enrolled at Lynn Classical High School and later transferred to East Boston High School, where she became a straight A student.

She and her older sister, mother and father, now residents of Revere, Mass., have since become naturalized U.S. citizens.

A sociology and German major, Sanja has recently been awarded a prestigious Paul and Daisy Soros Fellowships for New Americans, which "provides opportunities for continuing generations of able and accomplished New Americans to achieve leadership in their chosen fields."

HELPING NEW CITIZENS: The program recognizes the contributions naturalized U.S. citizens have made to American life, according to the Soros organization. Each year a Soros Fellow receives a maintenance grant of $20,000 (paid in two installments) and a tuition grant of one-half the tuition cost of the U.S. graduate program attended by the Fellow (up to a maximum of $16,000 per academic year).

"The Soros Fellowship is one of the most exclusive ones I know about," said Thomas Cushman, professor of sociology at Wellesley. "It's big news for a student to get this, as they only accept 30 out of 1,000 prescreened applicants each year."

At Wellesley, Sanja has studied advanced coursework in sociological theory and German intellectual history. Drawing from language skills developed during her childhood years in Germany, she has read classic texts in German. Centered on her strong interest in social inequality, she is compiling an honors thesis, "Karl Marx and Mikhail Bakunin: A Case-Study in Intellectual Conflict," to examine the sociological factors that influence the prevalence of one idea over another, specifically communism's triumph over anarchism.

Sanja will put the Soros fellowship toward earning her Ph.D. in sociology, a process that will take five years of study. She feels honored to have been chosen for the award.

"I looked at it and said I don't stand a chance," she said, after filling out the application. "Then they called me for an interview. I couldn't believe it. I was definitely surprised."

In the Soros interview process, she was asked why she wanted to continue her education. She explained that she intends to pursue her doctorate in sociology to focus on educational inequalities in the American public school system.

IMPROVING THE ODDS: "I want to work in sociology of education because of my personal experience," explained Sanja, who has volunteered at Teen Voices, a Boston inner-city school program that helps high-school girls aim for college. "Kids don't have the educational opportunities they should have. Coming to this country as a teenager, I learned I had to catch up very quickly, especially with the language barrier. I've been here for eight years, which in the grand scheme of things, isn't that long. I feel I'm a normal person, so if it could happen to me, I hope I'm able to show others the way."

Earlier this year, she was named a Schiff Fellow, which came with an award of $3,000 for undergraduate thesis work. She was also involved in field testing of an after-school program evaluation tool for the National Institute on Out-of-School Time, which took her on eye-opening trips through the disparate school environments of inner-city public schools and schools in wealthy suburbs.

Her career goal is "to find the best ways in which persons from underprivileged backgrounds can survive the pitfalls and inequalities present in the American education system."

The Soros Fellowship points her in the direction of being able to do just that.

Since 1875, Wellesley College has been a leader in providing an excellent liberal arts education for women who will make a difference in the world. Its 500-acre campus near Boston is home to 2,300 undergraduate students from all 50 states and 68 countries.

###