President of Hearst Magazines Will Be the 2008 Commencement Speaker
at Wellesley College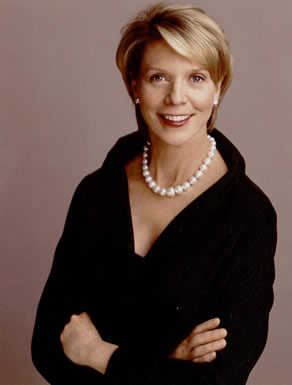 WELLESLEY, Mass. — She's been dubbed "The First Lady of American Magazines" and "one of the leading figures in American publishing over the past two decades" by Financial Times. As president of Hearst magazines, Cathie Black manages the financial performance and development of some of the industry's best-known titles: Cosmopolitan, Esquire, Good Housekeeping, Harper's Bazaar, Marie Claire and O, The Oprah Magazine —19 magazines in all.
Black has also achieved what she calls the "360° degree life" — a blend of professional accomplishments and personal contentment — as outlined in her bestselling book, Basic Black: The Essential Guide to Getting Ahead at Work (and in Life).
Black will address the approximately 600 members of the Class of 2008 and their friends and families at Wellesley College's 130th Commencement Friday, May 30, at 10:30 am on Severance Green on the Wellesley, Mass., campus.
"We wanted to bring Cathie Black because she has accomplished exactly what every one of my classmates — and Wellesley women in general — strive to be and achieve," said Henrietta Wong, senior class president. "She is not any ordinary strong, successful woman, but also a trailblazer in her industry, who has broken through a male-dominated corporate world. Cathie Black is a great role model for every ambitious woman, and I feel she has so much wisdom to offer us as we cross into the 'real world.'"

Having begun her career in advertising sales with several magazines, including Holiday and Ms., Black made publishing history in 1979 when she became the first woman publisher of the weekly consumer magazine New York.

Black is widely credited for the success of USA Today, where for eight years starting in 1983, she was first president, then publisher. In 1991, she became president and CEO of the Newspaper Association of America, the industry's largest trade group, where she served for five years before joining Hearst.

Black has appeared on Fortune magazine's "50 Most Powerful Women in American Business" list each year since it debuted in 1998. She has also been included on Forbes magazine's list of "The 100 Most Powerful Women" and Crain's list of New York City's "100 Most Influential Women in Business." Black is a graduate of Trinity College, Washington, D.C.
Since 1875, Wellesley College has been a leader in providing an excellent liberal arts education for women who will make a difference in the world. Its 500-acre campus near Boston is home to 2,300 undergraduate students from all 50 states and 68 countries.
###