Senior Advisor to John McCain to Speak on U.S. Policy Challenges
WELLESLEY, Mass. —As the former chief economist for the George W. Bush administration, Douglas Holtz-Eakin's appointment as the director of the non-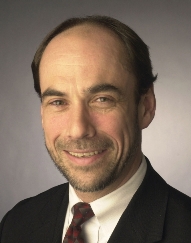 partisan Congressional Budget Office in 2003 worried some in Congress, who feared he might continue to advance Bush's agenda.
Within weeks of taking office, Holtz-Eakin's analyses showed Bush's economic plans would do little to reduce the deficit. Subsequent reports by the office showed that Bush's plans heavily favored the top income earners. At the time, The New York Times noted that Holtz-Eakin was "the first director to come directly from the White House and then raise challenges to his former boss." He was praised by both parties for his integrity and solid work.
Now as the chief economic advisor to presidential nominee John McCain, Holtz-Eakin is responding to the public's mounting fears of recession and a national financial crisis.
"John McCain understands the federal government's responsibility to ensure the stability of the U.S. financial system and is equally committed to protecting the pocketbooks of hardworking American families," Holtz-Eakin said in a statement.
Holtz-Eakin will present this year's annual Goldman Lecture in Economics, "U.S. Policy Challenges," Monday, March 31, at 8 pm in Tishman Commons in the Lulu Chow Wang Campus Center at Wellesley College.
"John McCain will be the Republican presidential nominee and hearing what his chief advisor has to tell him is critical," said Phillip Levine, professor of economics at Wellesley. "If you're interested in the election as a Republican or Democrat, there's reason for you to attend."
Holtz-Eakin has said that the central domestic policy of our time is rising health-care costs and has written extensively on topics ranging from health care to globalization to education policy. He is a former chair of the economics department at Syracuse University and is currently a senior fellow at the Peterson Institute for International Economics and President of DHE Consulting, LLC.
Since 1875, Wellesley College has been a leader in providing an excellent liberal arts education for women who will make a difference in the world. Its 500-acre campus near Boston is home to 2,300 undergraduate students from all 50 states and 68 countries.

###