Wellesley Student Margaret Chidothe Receives Funding from Kathryn Wasserman Davis
100 Projects for Peace
WELLESLEY, Mass. —The Kathryn Wasserman Davis 100 Projects for Peace program has announced that Margaret Chidothe, a first-year student at Wellesley College, will receive funding to undertake her proposed project in Cape Town, South Africa, this summer. The objective of the program is to encourage and support motivated youth to create and implement their ideas for building peace throughout the world in the 21st century.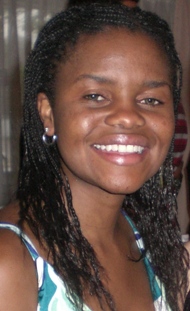 The initiative, now in its second year, is supported by Wellesley alumna and trustee emerita Kathryn Wasserman Davis, an accomplished internationalist and extraordinary philanthropist. Davis, on the occasion of her 100th birthday last year, established the program with a donation of $1 million so that each student project would receive $10,000.
"My many years have taught me that there will always be conflict," said Davis, a member of Wellesley's class of 1928. "It's part of human nature. But love, kindness and support are also part of human nature, and my challenge to these young people is to bring about a mindset of preparing for peace instead of preparing for war."
For her project, Chidothe will create a two-week improvisational theater workshop in Cape Town, South Africa, where many orphans have been left to deal with the legacy of HIV/AIDS and an increasingly violent society. Chidothe hopes that by appealing to the Southern African oral tradition of the communal sharing of stories, creativity will create peace.
Chidothe will be joined in the project by Roni Niteck, a freshman at Dartmouth College, who, like Chidothe graduated from Li Po Chun United World College in Hong Kong. Together, they plan to train 12- to 19-year-old orphans as performers in "Playback Theatre," described as a "spontaneous enactment of personal experience." They hope their trainees will transform the workshop into a regular community activity.
"When a community can share their experiences and discuss socio-cultural issues in an open environment, barriers to peace such as bias and misconceptions are destroyed," Chidothe said. "Playback Theatre provides a 'safe space,' free from judgment, where such discussions can occur."
The winning Projects for Peace, from students at 81 colleges and universities, all propose specific plans of action that will have lasting effects – from youth empowerment and education programs to improved community water supplies to a multitude of agrarian enterprises in countries where famine is pervasive. Students will travel to more than 54 countries over the summer to implement their projects. Last summer, three Wellesley students received funding through the Projects for Peace.
"We are grateful to the many students, faculty and staff who participated in this year's competition," said Philip O. Geier, executive director of the Davis UWC Scholars Program. "Kathryn Davis is a leader, and what she has set in motion with this important challenge is a growing number of young people committed to putting into place the building blocks for peace."
A complete list of the participating schools and projects, as well as a summary of the 2007 projects and a video interview with Davis from 2006, is available at www.davisprojectsforpeace.org.
Since 1875, Wellesley College has been a leader in providing an excellent liberal arts education for women who will make a difference in the world. Its 500-acre campus near Boston is home to 2,300 undergraduate students from all 50 states and 68 countries.

###