Wellesley's Dan Chiasson Is Named a 2008 Guggenheim Fellow
For immediate release:
April 9, 2008

Contact: Arlie Corday, acorday@wellesley.edu
781-283-2901
WELLESLEY, Mass. – Poet and literary critic Dan Chiasson has just been given a chance to be even more poetic. An assistant professor of English at Wellesley College, he has been awarded a 2008 Guggenheim Fellowship for poetry. The honor will grant the gift of time and leisure, two things long deemed essential to a writer's life.
I wish I were as big as a basketball hoop.
It is actually painful to be this fine.
It is like squinting for no reason,
all night, choosing the pain of squinting
over going to sleep. And yet
what does it matter how big
a target you are? Someone somewhere
will invent a game to make you hard to hit.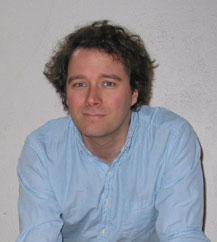 When the man took his son down the ravine
to view, along the opposite bank,
the pileup of a passenger train,
backhoes and cranes, things the child had seen
only in miniature, now huge, hauling
life-sized train cars out of the deep ravine,
inside his life-sized head the quiet boy
wondered how he would remember the scene
and, once he knew his father better, later,
and later, knew himself better, what it would mean.
"Poets need a lot of time to sit around," Chiasson said. "Yeats called poetry the 'sedentary trade.' Whitman says, 'I lean and loafe.' This doesn't win you any friends, but it's true."
Thanks to the Guggenheim Foundation, he will divide his time next year between two great passions: writing and teaching.
"I'll be teaching half-time next year, getting the wonderful stimulation I get from my students and colleagues at Wellesley," he noted. "But I'll also be leaning and loafing a little more."

Chiasson, named "Debut Poet" by The New Yorker in 2001, received his Ph.D. in English from Harvard in 2002 and has published two books of poetry: The Afterlife of Objects(University of Chicago, 2002) and Natural History(Alfred A. Knopf, 2005). A third, Where's the Moon, There's the Moon, will be published by Knopf in the fall of 2009. He is also the author of a critical book on American poetry, One Kind of Everything: Poem and Person in Contemporary America (Chicago, 2006) and serves as a poetry critic for The New Yorker and The New York Times Book Review.
At Wellesley, he teaches poetry workshops and courses on American poetry. The college actually contributed to the genesis of this poet who now graces its faculty.
"I started writing poetry seriously pretty late—I was 25 or so," said Chiasson, who's now 36. "Many poets are dead by that age! My first published poems were written for [Wellesley Professor] Frank Bidart's workshops here at Wellesley. I used to drive out from Harvard and audit them. So I consider myself a Wellesley graduate of sorts."

This year marks the 84th annual John Simon Guggenheim Memorial Foundation competition for the United States and Canada. This year the foundation gave 190 fellowships to artists, scientists and scholars with awards totaling $8,200,000. The winners, chosen from more than 2,600 applicants, get an average award of about $43,000.
Guggenheim Fellows are appointed on the basis of "stellar achievement and exceptional promise for continued accomplishment," according to the foundation. In all, 75 disciplines and 81 academic institutions are represented by this year's Fellows.

According to Guggenheim Foundation President Edward Hirsch, since its establishment in 1925 the Foundation has granted more than $265 million in Fellowships to about 16,500 individuals. Scores of Nobel, Pulitzer and other prize winners grace the roll of Fellows, including Ansel Adams, W. H. Auden, Aaron Copland, Martha Graham, Langston Hughes, Henry Kissinger, Vladimir Nabokov, Isamu Noguchi, Linus Pauling, Philip Roth, Paul Samuelson, Wendy Wasserstein, Derek Walcott, James Watson and Eudora Welty. The full list of 2008 Fellows is online at http://www.gf.org.
Since 1875, Wellesley College has been a leader in providing an excellent liberal arts education for women who will make a difference in the world. Its 500-acre campus near Boston is home to 2,300 undergraduate students from all 50 states and 68 countries.
###