Wellesley College Students Will Cheer for Their Own on Marathon Monday
Senior Kerry Shanley, who will be running the Boston Marathon April 21, hugs Wellesley College Cross Country Coach John Babington
WELLESLEY, Mass. – Located near the midpoint of the Boston Marathon, Wellesley College has become well-known for its students' enthusiastic support of runners who pass through the "scream tunnel" each year. Students crowd the campus sidewalks offering runners water, oranges, high-fives and, occasionally, kisses.
On Monday, April 21, a number of Wellesley students will pass through the famed tunnel as they make the 26-mile run for the first time, including senior cross country team members Kerry Shanley of Marshfield, Mass.; Katrina Utz of Middletown, R.I.; and Anya Ravitz of Hopkinton, Mass. All three women promised their coach, John Babington, they would finish out their running careers at Wellesley before tackling the challenges of a marathon. In exchange, he pledged to help them get official numbers during their senior year. Since January, they have been running together 10 hours weekly, spending their Saturdays pounding out 18 to 20 miles.
"I am so excited for 'the big day' – as we've been calling it," Shanley said. "I can't even imagine what it's going to feel like being on the other side of the scream tunnel with all of our Wellesley sisters cheering us on. We've gotten a lot of support already from our fellow Wellesley women, and running by everyone the day of [the race] will just be a thrilling experience. I hope I don't cry."
Some members of the Wellesley College community are running to raise money and gain exposure for important causes. Lynne Payson, manager of Wellesley's Wang Campus Center, will run for Girls' LEAP Self-Defense, which trains at-risk girls age 8-18 in verbal and physical safety skills and self-awareness.
First-year student Kelly Pendergast of Weston, Mass., and sophomore Megan Goossen of Dinuba, Calif., will run in honor of friends and family members for the Leukemia and Lymphoma Society. Pendergast is running in honor of her grandmother, Barbara Stephens, and Goossen is making the run for Peyton Ross, a 5-year-old from her hometown who is currently in remission from acute lymphocytic leukemia.
"I am running the Boston Marathon to honor the strength and the hope that she embodies," Goosen said. "Peyton's experience gives me the inspiration to continue to run with one goal in mind— a cure."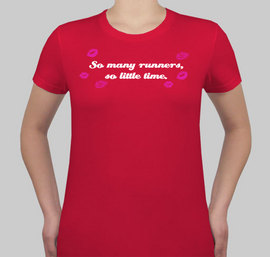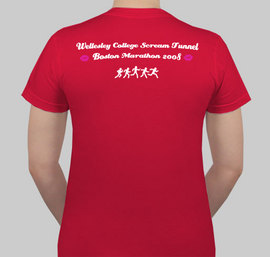 Wellesley College's Marathon Monday T-shirt, designed by senior Jenna Mezin,
reads "So many runners, so little time."
Training for a marathon is grueling, as both Goosen and Geni Rose of Wellesley, Mass., have found. Rose was sidelined this summer from an injury but has since run in shorter races and a duathlon to prepare for the Boston Marathon. Goosen documented the marathon challenges—including 13-degree weather and dodging SUVs —online at http://meganbostonmarathon.blogspot.com. Her fund-raising site is at www.active.com/donate/tntma/MGoossen.
"Let me just say how incredibly lucky I am to be a student at Wellesley College," Goossen wrote. "Not only have I met an amazing alum training, too, but the [Wellesley College] Center for Work and Service is reimbursing me for my transportation expenses, and group training happens to take place, of all places in the Boston area—[in] Wellesley."
Since 1875, Wellesley College has been a leader in providing an excellent liberal arts education for women who will make a difference in the world. Its 500-acre campus near Boston is home to 2,300 undergraduate students from all 50 states and 68 countries.
###