Survivor of Childhood Cancer Leads Wellesley College 'Relay for Life' Effort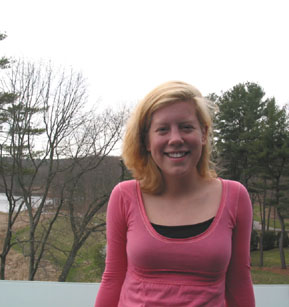 Eleanor Crummé takes fighting cancer personally, having beaten the disease as a child.
WELLESLEY, Mass. – Wellesley College first-year student Eleanor Crummé is one of the truly lucky ones. At age 2, she underwent surgery for adrenal cortical cancer. When her mother, a cancer survivor herself, asked about her baby's prognosis, doctors said Eleanor was the seventh child they had operated on for the illness – and the only survivor.
Now cancer-free, the 19-year-old native of Corvallis, Ore., has accomplished another life-affirming feat. She has brought Wellesley College into the American Cancer Society's Relay for Life All University event for the first time. On Friday, April 11, from 7 pm to 7 am at Harvard University's Gordon Track, 83 Wellesley students on 11 teams participated, raising about $8,500 in donations, the third highest total for participating colleges.
"It's great to see how many Wellesley students are interested and excited to be involved with this," said Eleanor. "Now they will realize how much of an impact being involved can make."
Eleanor addressed Relay for Life participants as the event's Luminaria speaker, talking about the importance of remembering the experiences of those lost to cancer. Sadly, Eleanor's grandmother lost her fight with cancer.
"Relay For Life has been a great way for me to acknowledge everyone who helped me get through cancer and to recognize how fortunate my family is compared to the six other families, noted by the doctors, who do not get to watch their babies grow up," Eleanor said. "I owe it to myself and to children not lucky enough to survive cancer to do something to eliminate this disease so no parents have to struggle with the fear ours did and no children have to endure the extreme pain we did. Working with this year's Relay For Life All University, I feel I am doing something to prevent future generations from the personal experiences with childhood cancer I have."
Eleanor is gratified to get such an enthusiastic response from her fellow students.
"Wellesley students have been extremely receptive to the recruitment efforts of the Wellesley Relay committee," she said. "I am confident that, with so many first time participants who are not seniors, that the number of Wellesley participants will grow tremendously in the upcoming years."
Wellesley first-year students Sonrisa Cooper of Portland, Ore., Susan Goldman of Elmira, N.Y., and Kaylyn Williamson of Loveland, Ohio, were in charge of a "Fight Back Ceremony" in which they made a presentation and organized a tug of war tournament during the Relay for Life.
"I first got involved with Relay last summer to support a friend whose father had died of cancer," said Sonrisa. "When I found out that Eleanor would be starting a Wellesley chapter, I signed up immediately. My grandfather was diagnosed with skin cancer in December, so Relay has become even more important to me in the last few months. Cancer is something that nobody can avoid – it will affect everybody in some way or another. I joined Relay to support my friends and family, and to raise awareness about the need for research and personal strength."
Like her friends, Kaylyn Williamson has been a participant in other Relay for Life events.
"I first got involved with Relay for Life because the mother of one of my closest high school friends was diagnosed with breast cancer and a group of us wanted to walk in her honor," Kaylyn said. "She is now a two-year cancer-free survivor, which is great!! I still walk for her, and the many other people I have known who have been affected by cancer."

With a mother and two aunts who have battled the disease, Susan Goldman tells a similar story. "I joined Relay because I have seen the suffering that cancer creates and I want to do everything that I can to eliminate that suffering and to eliminate cancer," she said. "Relay is a great way to raise awareness about cancer research and to encourage everyone to fight back against the disease."
More information about the All University event can be found online at http://main.acsevents.org/rflMAALLUniversity.
Since 1875, Wellesley College has been a leader in providing an excellent liberal arts education for women who will make a difference in the world. Its 500-acre campus near Boston is home to 2,300 undergraduate students from all 50 states and 68 countries.
###