2008 Ruhlman Conference Celebrates Student Learning and Research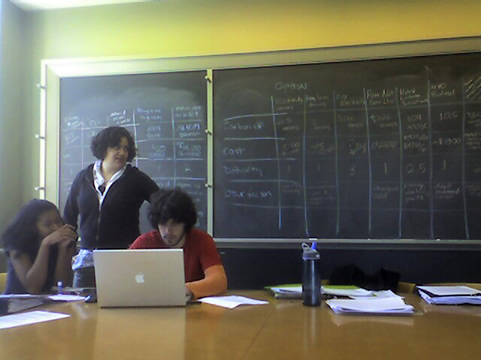 Courtney Streett '09, Margaret Weirich '08 and Olin College student Alexander
Jenko '08 work on their Ruhlman Project, "Climate for Change: A Look at Wellesley's Greenhouse Gas Emissions."
WELLESLEY, Mass. –The 2008 Ruhlman Conference, held Wednesday, April 30, from 9 am- 6 pm on the Wellesley College campus, will feature presentations of projects completed by nearly 300 Wellesley students. The projects range from "Being Black and Mormon: Exploring How Boundaries are Negotiated" to "A Permanent Sprinkle of Gold or a Transient Midas Touch? The Effects of Hosting the Summer Olympics on Housing Markets."
The Ruhlman Conference helps to foster collaboration among students and faculty across academic disciplines while enhancing the intellectual life of the College. Reflecting the diversity of student interest and accomplishment, it presents student work in a variety of formats: papers, panels, posters, exhibitions, musical and theatrical performances, interactive teaching presentations and readings of original work. The day is organized around eight themes: Cross Cultural Research, Economic Issues, Gender and Sexuality, Literature and Arts, Original Creative Work, Science and Technology, Social Analysis and Political Development.
In addition to the quality of work, the wide-ranging topics make the Ruhlman Conference an exceptional event. Under the theme of social analysis, you can choose among 13 presentations such as "The Influence of Maternal Depression on Preschoolers."
One project has been undertaken by eight students in an environmental studies course, "Environmental Decisionmaking." Their presentation, "Climate for Change: A Look at Wellesley's Greenhouse Gas Emissions," presents the findings of their semester-long assessment of Wellesley's greenhouse gas emissions, makes recommendations to reduce these emissions and evaluates ways in which the college can meet the requirements of the American College and University Presidents' Climate Commitment.
"The presentation addresses what Wellesley has done and what it can continue to do to lower its greenhouse gas emissions and become more environmentally friendly," said Courtney Streett '09, an environmental studies and Africana studies major.
Refreshments will be served throughout the day including lunch on the Wang Campus Center lawn from 12:10-1:30 pm. For more information and a full schedule of events, visit www.wellesley.edu/DeanCollege/Ruhlman/home.html.
Since 1875, Wellesley College has been a leader in providing an excellent liberal arts education for women who will make a difference in the world. Its 500-acre campus near Boston is home to 2,300 undergraduate students from all 50 states and 68 countries.
###