Family Celebrates Love of Wellesley College
with a Lamppost– and a Granddaughter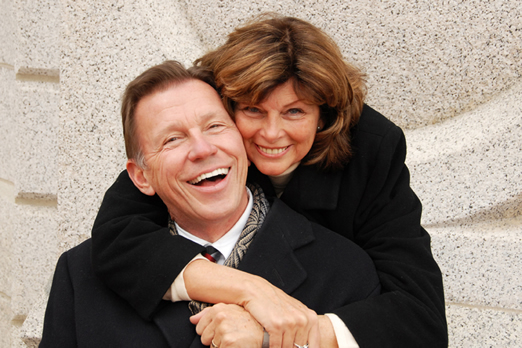 Richard and Linda Eyre
WELLESLEY, Mass. – When Richard and Linda Eyre's 9-year-old granddaughter visited Wellesley College, she explored the campus, attended classes and spent time with her aunt, Charity Eyre, a member of the class of 2008.
"She had quite a time," said Richard, 62. "People would always ask her what her name was and she would say 'Wellesley.'"
Three of Eyre's four daughters, Saren, Saydria and Charity, have graduated from Wellesley. Their fourth daughter, Shawnalee, attended Boston University instead— but named her oldest daughter after her sisters' beloved school.
"She wanted to have some connection," Richard said.
With youngest daughter Charity having graduated in January, their granddaughter is not the only reminder the Eyres now have of Wellesley College. They are also in the process of installing one of Wellesley's iconic lampposts at their family's ranch in Park City, Utah. The lamppost was custom-made as a Christmas present from their son Jonah.
"I was blown away," Linda said. "I had no idea. He gave us the diagram of the lamppost and said he was having it made for us. That's the perfect gift for a couple who sent three daughters to Wellesley."
Richard attended Harvard Business School and he and Linda had their first daughter, Saren, while residing in Boston. It was then that he first took notice of Wellesley.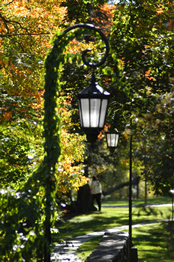 "As a student in Boston driving past Wellesley, I thought, 'That's the prettiest campus in the world,'" he said.
When it came time for Saren to go to college, she too fell in love with the campus and decided to enroll. During his visits to Wellesley, Richard would jog around Lake Waban— his "favorite jog in the world"—and admire the lampposts, a well-loved symbol of Wellesley. When he looks out of his window in Utah, he will now see one of those lampposts in the middle of his horse pastures.
Linda and Richard raised nine children and are internationally recognized authors, speakers and media guests on the topics of parenting, life balance and family strengthening. One of their 20 books, Teaching Your Children Values, was No. 1 on The New York Times bestseller list.
The Eyres, who have 16 grandchildren with two more on the way, say little 9-year-old Wellesley is destined to attend the college in about nine more years, and they hope their eight other granddaughters will follow suit.
Since 1875, Wellesley College has been a leader in providing an excellent liberal arts education for women who will make a difference in the world. Its 500-acre campus near Boston is home to 2,300 undergraduate students from all 50 states and 68 countries.
###