Kara Hadge Is Chosen as Student Speaker for Wellesley's 130th Commencement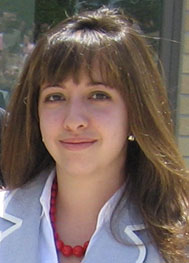 Kara Hadge: 'I've learned by example at Wellesley that to be a respected leader one first has to take the initiative to pursue such a position and, second, be comfortable speaking in public on behalf of that position.'
WELLESLEY, Mass. – Kara Hadge will follow in the footsteps of Hillary Rodham Clinton as she takes the stage at Wellesley College's May 30 commencement ceremonies to address fellow members of the class of 2008 as their student speaker. Clinton was the first such speaker for her graduating class of 1969.
Hadge, the daughter of Donald and Patricia Hadge of Canton, Mass., is an English and art history major. Co-editor-in-chief of Counterpoint, a MIT-Wellesley monthly publication, she has served on the Art Department Student Advisory Committee, as a Student Admission Representative, as a member of Italian Society and as a contributor to the student paper, The Wellesley News.

A recipient of First-Year Honors, she will graduate with honors in English and will be inducted into Phi Beta Kappa this spring. She was awarded the Mary Lyons '35 Prize for Prose by the English Department in 2007 and 2008. She studied abroad in the spring of her junior year at University College London.

She has presented her work at Wellesley's 2007 Tanner Conference ("From Party Pictures to Politicians: The Magazine as a Cultural Mirror," based on her editorial internship at Vanity Fair magazine.) She has taken part in two other internships: at Teen Voices magazine in Boston as an editorial mentor and at the Danforth Museum of Art in Framingham as a curatorial intern.

She is the recipient of the English Department's internship at Slate magazine, and will work at Slate's office in Washington, D.C., this summer.

"In the long term, I hope to pursue a career in journalism and am thinking of applying to journalism school," Hadge said.

Hadge's commencement speech is inspired by her experiences at Wellesley, she said.

"Attending a women's college is a unique experience, so my speech will focus on the particular environment at Wellesley," Hadge said. "I'll discuss what I have found to be most challenging, inspiring and fulfilling about being a part of the college community and how my views of Wellesley have changed over the past four years. I'll look back to our beginnings at the college as first-years and forward to what lies ahead in our lives as alumnae. Finally, I'll turn to our responsibility as alumnae to make use of the strengths Wellesley has helped us all develop."

Hadge is impressed by what she has learned about leadership at Wellesley.

"I've learned by example at Wellesley that to be a respected leader one first has to take the initiative to pursue such a position and, second, be comfortable speaking in public on behalf of that position," she said. "The honor of addressing my classmates at graduation is an opportunity for me to rise to that challenge. I've learned so much from my peers over the last four years, and I want to convey my gratitude to them and the entire Wellesley community in a way that will hopefully be meaningful to us all."
Since 1875, Wellesley College has been a leader in providing an excellent liberal arts education for women who will make a difference in the world. Its 500-acre campus near Boston is home to 2,300 undergraduate students from all 50 states and 68 countries.
###