Wellesley Graduates 582 at 130th Commencement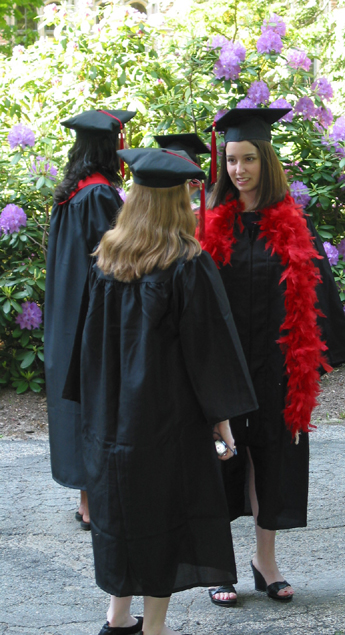 WELLESLEY, Mass. — Wellesley College celebrated its 130th Commencement Friday, May 30, as 582 seniors walked across the stage to receive their diplomas.

Commencement speaker Cathie Black, president of Hearst magazines, told the graduates that it is important to focus on your dreams in life, realizing they take work and courage to follow.

"You are equipped with one of the finest educations available anywhere on this planet," she said. "…In a century that will be not only marked but defined by the unbridled achievement of women – by your contributions, by the achievement of a scope and magnitude the world and certainly the United States has not yet known. With that in mind, I have just one very modest request: Astonish us."

Black manages some of the magazine industry's best-known titles: Cosmopolitan, Esquire, Good Housekeeping, Harper's Bazaar and O, The Oprah Magazine —19 magazines in all. She served as president and publisher of USA Today and was president and CEO of the Newspaper Association of America, the industry's largest trade group, for five years before joining Hearst.

Wellesley College President H. Kim Bottomly, in the traditional "Charge to the Class," told the graduates that moving through life is a bit like running the Boston Marathon, the world-famous race that passes by Wellesley College's enthusiastic "scream tunnel" each spring – a gathering of enthusiastic students who offer cheers, water, oranges and even kisses to runners.

Bottomly noted that everyone needs a personal scream tunnel — sources of inspiration and support for life's journey.

"As you leave Wellesley for your journey, these sisters, these friends, these colleagues, these teachers have become, in four short years, your own lifelong scream tunnel," Bottomly said. "We will be cheering you always onward toward your goals, and you will hear us. You will always hear us. You have only to listen."

Senior Kara Hadge of Canton, Mass., served as the student Commencement speaker this year. She noted that, not only are her fellow graduates "women who will make a difference in the world," as Wellesley's mission states, but that they also are already "women who do."

"We are women who do and have done so many amazing things, whether working with refugee children over the summer, traveling the world, or studying developing economies or cancer treatments," Hadge said. "We quickly learn at Wellesley that there are no limits to the projects we can undertake or the goals we can set for ourselves to accomplish, and we learn this not only from the prodding of our professors, but also from the examples set by our peers, who are there to cheer us on and cheer us up every step of the way."
Hadge, an English and art history major, has been the co-editor-in-chief of Counterpoint, an MIT-Wellesley monthly publication. She graduated with honors in English and was inducted into Phi Beta Kappa. She was awarded the Mary Lyons '35 Prize for Prose by the English Department in 2007 and 2008. She is the recipient of the English Department's internship at Slate magazine, and will work at Slate's office in Washington, D.C., this summer.
For more information about Wellesley's Commencement, click here.

Since 1875, Wellesley College has been a leader in providing an excellent liberal arts education for women who will make a difference in the world. Its 500-acre campus near Boston is home to 2,300 undergraduate students from all 50 states and 68 countries.
###