Wellesley College Student from Greenville, S.C. Awarded Grant
for Exploration and Travel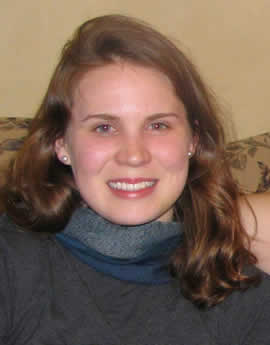 WELLESLEY, Mass. -- Wellesley College graduate Mackensie Yore, daughter of Joanne Armstrong and Brian Yore of Greenville, S.C., has been awarded the Thomas J. Watson Foundation fellowship for a year of independent exploration and travel outside the United States.
Yore's project, "Cleft Lip to Clubfoot: Cultural Constructions of Congenital Anomalies," will focus on how culturally-engendered attitudes affect access to medical services that detect and treat cleft lip, spina bifida and clubfoot. She will spend approximately 10 weeks each in Argentina, China, Ghana, Ireland and India during her year of travel.
In the United States, the importance of both preventing and treating birth defects is widely recognized. While the occurrence of birth defects is universal, there are large differences among different countries and cultures in access to and acceptance of cost-effective preventative and therapeutic medical services for birth defects. Yore hopes to explore, and learn how to change, stigmatizing attitudes towards people with birth defects.
"Physicians who have worked in developing countries confirm that this stigma against people with deformities is real and has a devastating impact on the lives of people with birth defects," Yore said. "Clearly, cultural differences do exist, and deconstructing them would appear to be a valuable exercise if we are to bring about widespread change."
The Thomas J. Watson Foundation awards 50 fellowships to college seniors of unusual promise to test their aspirations and abilities and develop a more informed sense of international concern. Each fellow receives $25,000 for the year of travel and exploration.
"The awards are long-term investments in people, not research," said Rosemary Macedo, the Executive Director of the Watson Fellowship Program and a former Watson Fellow. "We look for people likely to lead or innovate in the future and give them extraordinary independence in pursuing their interests. They must have passion, creativity, and a feasible plan. The Watson Fellowship affords an unequalled opportunity for global experiential learning."
Yore received a bachelor of arts degree in biochemistry from Wellesley College on May 30, 2008. While at Wellesley, she worked as a clinical research assistant for the Active Malformations Surveillance Program and in the Department of Newborn Medicine at Brigham and Women's Hospital in Boston, Mass. She has served as an emergency department liaison at Massachusetts General Hospital and a research assistant in the neuroscience program at Wellesley. She also volunteered with the Best Buddies program, mentoring a young woman with autism.
Yore will present findings from her research at Wellesley, "Are monozygotic twins always identical?: A Review of Monozygotic Twins with Discordant Karyotypes," at the Annual Meeting of the Teratology Society in Monterrey, Calif., this month. She hopes to become a physician-scientist following her year of travel.
Since 1875, Wellesley College has been a leader in providing an excellent liberal arts education for women who will make a difference in the world. Its 500-acre campus near Boston is home to 2,300 undergraduate students from all 50 states and 68 countries.
###