Saving the Earth, One Tomato at a Time
Wellesley College Students Tackle Organic Farming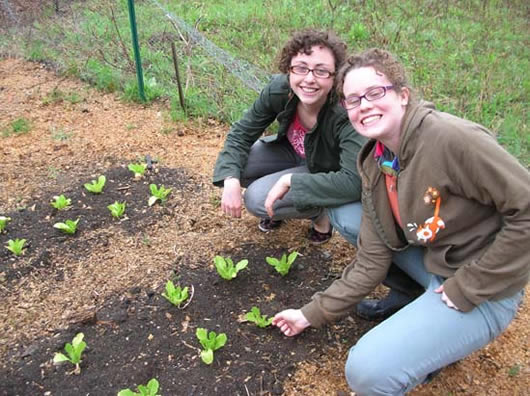 Wellesley College student farmers Margot Munger '08 and Eliza Murphy '10
WELLESLEY, Mass. -- The average food on an American plate has traveled 1,500 miles from its beginnings on a farm. As a result, according to one source, 17 percent of U.S. fossil fuel consumption is put toward feeding ourselves.
With gas and food prices mounting and concerns about climate change growing, many are rethinking the way we approach food. "Food miles"—or the distance food travels between its source and the consumer — decreases drastically when food is bought locally, easing the consumption of fossil fuels.
Some Wellesley College students have embraced the benefits of eating locally through organic farming. Last fall, El Table, a student-run co-op on campus, began buying lettuce, tomatoes, peppers, basil and garlic from the venture. Now Wellesley College dining halls plan to use the student farmers' garlic, basil, parsley and asparagus, with more options to come.
Organic Farming 101
After spending a summer working on a community organic farm, Wellesley College junior Johannah Murphy of Framingham, Mass., knew she wanted to continue her sustainable agriculture work on campus. She didn't, however, know how to make that happen, so in late 2006 she e-mailed the Wellesley College president directly.
"I don't know how to direct this e-mail, but I'd like to start a small farm," she wrote.
Wellesley's president passed her message onto Patrick Willoughby, co-chair of Wellesley's Sustainability Committee. Willoughby helped Murphy and her sister Eliza, a Wellesley sophomore, secure a plot of land in the college-owned community gardens on Weston Road, less than a mile from campus. The gardens, commonly called the "victory gardens" from their origins in World War II, are typically used by college employees and residents of the town.
The land hadn't been used in a few years so the Murphys began a strenuous debris clearing process, which included removing stumps and winter's remnants. They also rototilled the plot, a process that breaks up the soil and brings nutrients to the top. Eliza nursed seedlings through the early spring in her residence hall living room until they were ready to be planted.
Soon other students joined in to help the sisters hoist a fence, compost, and trellis the tomatoes. Their plants began to bloom. A harvest of pumpkins, squash, herbs, asparagus, flowers, lettuce, peppers, tomatoes and herbs followed. The garden received daily attention, as they watered, weeded and maintained the land.
As the school year wound down, Eliza and Jo continued working the plot , donating the produce to Boston area food shelters during the summer. They connected with small local farms to borrow tools and were given compost and seedlings. Last fall, they began sending produce to El Table and will begin selling to the Wellesley dining halls this coming fall.
"It's definitely a movement that's building on campuses and in communities in general where people want to have a smaller impact on their environment," said Wellesley senior Margot Munger, El Table's food manager and a member of the Wellesley farming venture. "Buying food that's local makes a much smaller carbon footprint and also is a way to support local businesses."
Jo Murphy (left) and her sister,
Eliza Murphy (right), tend the college's plot.
Think Globally, Eat Locally
While volunteering at the Food Project, an organization that works for social justice and change through sustainable agriculture, Jo Murphy first secured her passion for farming. She defines sustainable agriculture as a self-perpetuating cycle that constantly renews the land for the next generation while still providing for the current community.
"Sustainability is a key issue across the board in terms of social justice," she said. "It's an organic, right, all-the-time way to promote change."
Farm workers' rights, resource consumption, pesticide use and globalization are all issues that can be tackled by living a more sustainable lifestyle, Murphy said. But if those issues are intimidating or alienating to some, eating locally offers more immediate benefits—such as freshness, purity and taste.
"It doesn't have to be a huge human rights issue," Murphy said. "It can just be that the carrot tastes better, it was grown organically without pesticides right in front of you— that can be a huge way of connecting."
Eating locally and organically has health benefits and can also be a political statement, the students say. Nutrient levels are higher in locally grown food, as the produce is allowed to ripen fully before distribution, rather than being shipped pre-ripened and spending days in transit. It is also avoids the potential health effects of fertilizers and pesticides, which the Environmental Protection Agency say may affect the nervous system and be carcinogenic. Eating locally can also be a political act, as big business agriculture, or "agribusiness," can deplete the environment and the local economy.
"If you buy from agribusiness, your food dollar isn't going back to the community," Munger added.
The farming group, which calls itself "Wellesley Students for Sustainable Farms and Produce," has grown to 12 members since its start in late 2006 and more students are interested in joining when the growing season begins.
"I really care about sustainability," said Munger, an English major. "I'm not a science person but this is something that doesn't take that much science."
"None of us are really science-y people," added Jo, a peace and justice studies and classical civilization major. Her sister Eliza is an art studio major.
| | | |
| --- | --- | --- |
| | "It doesn't have to be a huge human rights issue," Murphy said. "It can just be that the carrot tastes better, it was grown organically without pesticides right in front of you." | |
Dining Services and Sustainability
Student efforts have been part of a college-wide push toward sustainability. For the first time last fall, 20 percent of produce in the dining halls was bought locally through the college's vendors. Buying local foods is far from cost prohibitive, said Jason LaPrade, Wellesley's food service manager.
"If you're buying in-season, it can be cost-neutral or cost-beneficial to buy locally," he said.
Buying local is just one initiative to improve dining services' sustainability program. Dining halls now buy hormone-free milk locally and have converted to environmentally friendly chemicals in their facilities. They also have started to send trash to a sorting facility that determines whether it can be composted.
About 80 percent of Wellesley dining hall waste is compostable. Large scale events, such as commencement and alumnae weekend, have gone green by replacing water bottles with water jugs, using compostable plates and cups, buying locally when available and serving finger foods to cut down on plastic cutlery.
On a smaller scale, one dining hall sends its scraps to the horticultural program for composting. Food representatives on Wellesley's Sustainability Committee—including residence directors, food managers and student representatives—recently introduced "zip cups," a play on the popular "use it and return it" Zip cars. Each student was given a reusable mug to take drinks in and out of dining halls. They can drop it off when they need it cleaned and pick up a new one. The initiative, which reduces waste, is enormously popular with students.
"We've bought a little over one cup per student and put them all out," LaPrade said. "I see students everywhere with them."
The Growing Season
As the growing season has begun, Wellesley students are planting and working to raise awareness about sustainable agriculture on campus. They have teamed up again with Willoughby to expand their plot in the community gardens so they can increase production.
"It's a pleasure for me to work with the students," Willoughby said. "They've done a lot of good thought and planning with the farm and we're hoping in the future to do more."
Since 1875, Wellesley College has been a leader in providing an excellent liberal arts education for women who will make a difference in the world. Its 500-acre campus near Boston is home to 2,300 undergraduate students from all 50 states and 68 countries.
###