Wellesley College to Offer Swahili Courses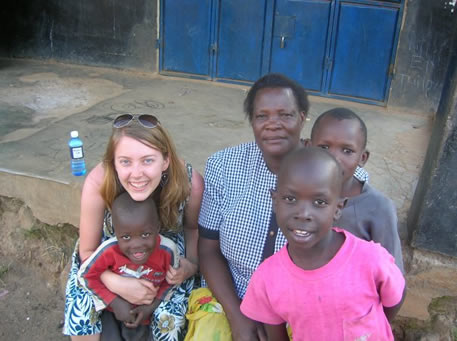 Wellesley College senior Dana Britt visits with her friend's family
in Kenya last summer.
WELLESLEY, Mass. -- For Wellesley College senior Dana Britt, an interest in learning Swahili took root during a teaching internship in Kampala, Uganda, last summer.
"One of my closest friends, who was also a fellow teacher at the school, was from a small village near Kisumu, Kenya, and I had the pleasure of getting to visit his family's village and travel to Nakuru and Nairobi," Britt said. "My friend spoke English, Luo and Swahili fluently, and I would love to be able to keep up a conversation with him and his family when I am able to visit again."
Swahili is spoken by an estimated 50 million people, primarily in eastern, central and southern Africa. Starting this fall, Wellesley will offer elementary Swahili courses.
Professor Filomina Steady, chair of the Africana Studies Department, says students who take the course will learn new language skills that will help in their overall understanding of languages. They will also be able to use the language in study abroad programs offered by Wellesley and in future work in Swahili-speaking regions.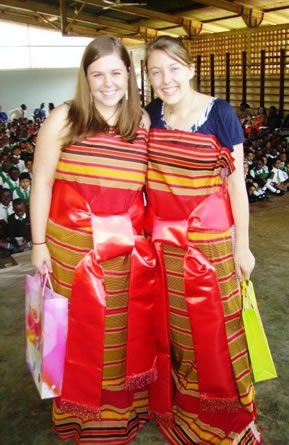 Seniors Natalie Ross and Dana Britt wear traditional Ugandan gowns on their last day of teaching at Aga Khan School. Both are enrolled in Swahili 101 this fall.
"Students who can speak Swahili will be able to make a better adjustment and participate more meaningfully in cross-cultural communication and understanding," Steady said. "They will also be in the position to take advanced Swahili courses during their study-abroad programs."
Wellesley College junior Daphne Lundi hopes to use Swahili as she begins to work in her chosen field, urban planning in developing nations. She believes that the language will provide insight into her Haitian background and hopes to learn if the African language influenced Haitian-Creole.
"I've been interested in African history for a while since it's provided me with a different lens to analyze my own cultural history as a Haitian-American," Lundi said. "Learning Swahili seemed like a good way to further the analysis."
The course will be taught by Judith Mmari, a visiting lecturer and native Swahili speaker. The primary focus will be to develop listening, speaking, reading and writing skills. Aspects of Swahili and African culture will also be introduced.
Since 1875, Wellesley College has been a leader in providing an excellent liberal arts education for women who will make a difference in the world. Its 500-acre campus near Boston is home to 2,300 undergraduate students from all 50 states and 68 countries.
###