Wellesley's Paul Fisher Writes an American Odyssey of One of History's Most Brilliant, Eccentric and Daring Families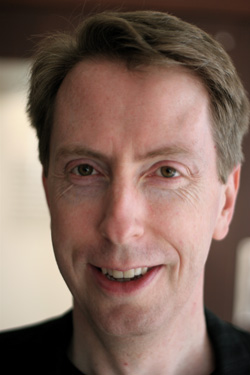 Photo by Todd Wemmer
Paul Fisher writes about the truths behind one of America's most famous clans.
•••••••••
For more on House of Wits: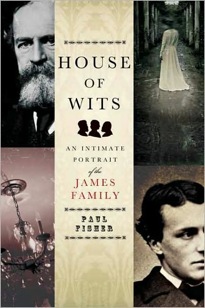 Click here for feature/audio interview with Paul Fisher in The Christian Science Monitor.
Click here for information on the publisher's Web site.
Click here for the author's Web site, including critical commentary and other information.
WELLESLEY, Mass. -- The James family, one of America's most memorable dynasties, gave the world three famous children:
• Henry James, a novelist of genius (The Turn of the Screw, Daisy Miller, A Portrait of a Lady)
• William James, an influential philosopher and author of the monumental Principles of Psychology
• Alice James, a feminist icon and diarist who triumphed over her sheltered life and struggles with mental illness
Although much has been written on them, many truths about the Jameses have long been camouflaged. The conflicts that defined one of American's greatest families — homosexuality, depression, alcoholism, female oppression — is the focus of a new book, House of Wits (Henry Holt & Co., June 2008) by Wellesley College's Paul Fisher.
Fisher, an assistant professor of American studies, has written a grand family saga that rediscovers a family traumatized by the restrictive standards of their times but reaching out for new ideas and ways to live.
"I've written this book while at Wellesley, and my experiences in the classroom with Wellesley students have really helped shape how I've thought about women in the James family and in 19-century America," Fisher said.
The Wellesley professor has studied the family for his entire career.
"I've been working on James family relationships since I was a graduate student, when I first got interested in the relationship between Henry James and his sister Alice James—how he appropriated her 'material' in his travel writing in 1872 and in his 1886 novel The Bostonians," he said. "Alice said in her diary that he'd stolen her 'pearls,' her best thoughts, without giving her credit. I got fascinated with the ways that male authorship took credit for women's work, experience and intellectual property."
His book delves into the role of women, both those in the family itself and other prominent women of the era: Constance Fenimore Woolson, Edith Wharton and Emma Lazarus (among many others), who intersected with the Jameses.
"The Jameses lived through one of the great eras of feminism in the United States, and that's an exciting part of the story," Fisher said. "But both Henry James Sr., the father of the family, and Henry James Jr., the novelist, often spoke out against women's rights. Alice James, the only daughter among five children, suffered from her family's view. But she was amazingly self-educated, and she believed in the importance of educational opportunities for women."
In the 1870s, Alice participated in a correspondence school for women from all over the United States, the Society to Encourage Studies at Home.
"Wellesley was founded in 1875, when Alice James was 27," Fisher mused. "She didn't get to study here, but I think she would be proud of Wellesley's continuing commitment to high-quality women's education."
In House of Wits, Fisher follows the five James offspring ("hotel children," Henry called them) and their parents through their privileged travels across the Atlantic; interludes in Newport and Cambridge; the younger boys' engagement in the Civil War; and William and Henry's later adventures in London, Paris and Italy. He captures the splendor of their era and all the members of the clan — beginning with their mercurial father, who nurtured, inspired and damaged them, setting the stage for lives of colorful passions, intense rivalries and extraordinary achievements.
House of Wits is a revealing cultural history that revises and completes our understanding of its remarkable protagonists and the changing world where they came of age.
Fisher grew up in Wyoming, was educated at Harvard and Trinity College, Cambridge, and received his Ph.D. from Yale. He is also the author of Artful Itineraries: European Art and American Careers in High Culture, 1865-1920. He teaches American literature at Wellesley and lives in Boston.
His House of Wits has already garnered critical acclaim and wide attention. "Graceful, thoroughly researched," noted reviewer Daniel Dyer in the Cleveland Plain Dealer. "In his comprehensive and compelling House of Wits scholar Paul Fisher succeeds in spinning all eight biographical plates atop narrative poles—the stories of the parents, Aunt Kate and five offspring."

David Propson in The Wall Street Journal writes that, "Mr. Fisher portrays William's wilderness years with touching empathy. . . [He] write[s] vividly of the children's youth, filled as it was with heated arguments, shared enthusiasms and combative table banter. He likewise captures the passions and rivalries among the children as they grew up and struggled to find their place in the world."

A Kirkus starred review called the book a "stunning multigenerational portrait of one of the most complex families in American intellectual history . . . A golden bowl, brimming full."
Since 1875, Wellesley College has been a leader in providing an excellent liberal arts education for women who will make a difference in the world. Its 500-acre campus near Boston is home to 2,300 undergraduate students from all 50 states and 68 countries.
###