Faster, Higher, Stronger
Wellesley College Students Intern in Beijing as the Summer Olympics Kick Off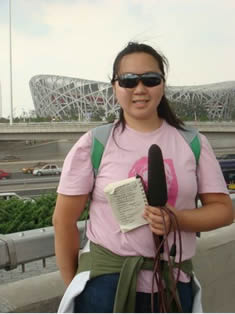 Wellesley College junior
ZhanTao Yang stands in front of the "Bird's Nest," China's national stadium. The venue will host the opening ceremony of the 2008 Summer Olympics Friday, August 8.
Spotlight on Summer Internships
· Yi Zhang '10 is spending the summer as an intern at MIT, helping to organize the International Development Design Summit (IDDS). The month-long summit brings together 51 participants from 20 countries to create prototypes for "low-tech" and culturally and environmentally appropriate solutions to issues— including public health, alternative energy sources and education— in developing countries. To read The Boston Herald's coverage of the conference, click here.
· Dana Montalto '09 was one of 51 students chosen to participate in the inaugural Henry Clay Center for Statemanship Student Congress, "Resolving Conflict in a Modern World," in Lexington, Ky. Montalto was nominated by Sen. Ted Kennedy and college officials to represent Massachusetts during the masters level college course on statesmanship and diplomacy.
· Bailey Brame '10 is working at Karen Beasley's Sea Turtle Rescue and Rehabilitation Center in Topsail, N.C. Brame said her favorite part of the internship is working together with other interns to get incoming turtles cleaned, medicated and settled in a tank to begin the healing process.
WELLESLEY, Mass. – ZhanTao Yang made her first trip to Beijing in 2001. On the second day of her visit, the International Olympic Committee announced the 2008 summer games would be held in the city. Amid the excitement, Yang promised herself that she would return for the Olympics, and find a way to share Chinese culture and history with the world.
Now a junior at Wellesley College, Yang is providing media coverage of the Olympics as an intern at ABC News in Beijing. She is among four Wellesley College students interning in Beijing this summer on college stipends— including one student who is working with The Economist magazine, and another who has done promotional work for the World Wildlife Fund that will be distributed in the Olympic village.
"There is an excitement in the air as all the athletes and news crews arrive," Yang said. "From street cleaners to tour guides, there is an underlying enthusiasm as the games near, a certain disbelief that after all the endless days of hard work, the Olympics are finally about to start. It is so inspiring when I go on my nightly speed walk to see the colorful Olympic banners in the streets and know that there are so many people interested in the Olympics, in China, and that I am achieving my dream in a way I never imagined."
Yang has worked to cover topics ranging from the latest Sichuan earthquake to a terrorist attack in Xinjiang. Her first published article, "Duan Family's Self-Sustaining Lifestyle," profiles one family's back-breaking farm work in the Hebei Province of China.
"It is incredible that for all of China's wealth and expanding economy, there are still so many people who live in poverty in the city of Beijing," Yang said. "When we did a shoot with the Duan family, I took several photos of the couple to put into my article. As we left, the couple asked us to send a copy of the picture, as they had never taken any photos before. For all their poverty, though, they never hesitated in welcoming us to their home, and serving us melons and food, and even inviting us to join in their dinner. This internship has helped me to be proud that I am Chinese, that I come from a country of kind, generous people."
This summer, the Center for Work and Service at Wellesley College awarded 85 stipends to students pursuing internships they identified and applied to directly. Of these, 62 students are interning domestically and 23 are working internationally.
The center also identifies internships they deem unique or difficult to find, and students may apply directly through the college. This year, 70 students were provided with stipends, airfare and housing to pursue identified internships— 35 are working domestically and 35, internationally. As a result of the stipends, students are spending their summer doing everything from preparing traveling exhibits for a field museum to producing a TV segment on Chicago's best bathrooms for WTTW-Chicago.
"We've really tried to do some new and interesting things this year," said Teresita Ramos, the director of internships and service learning.
For more information on the Center for Work and Service and summer internships, click here.
Since 1875, Wellesley College has been a leader in providing an excellent liberal arts education for women who will make a difference in the world. Its 500-acre campus near Boston is home to 2,300 undergraduate students from all 50 states and 68 countries.
###