Wellesley College Community Gives Back During
'A Day to Make a Difference'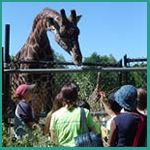 Volunteers at the Franklin Park Zoo for the 2007 "A Day to Make a Difference." To view more photos from last year's event, click here.
WELLESLEY, Mass. — Last year, the Wellesley College varsity crew team spent the first Saturday of the academic year at the Greater Boston Food Bank. Within three hours, the team had boxed and stacked more than 20,000 pounds of food.
"When we are told how many families the food we packaged will serve, it always seems to make some jaws drop," said Tessa Spillane, the head crew coach. "It reminds our students that there is so much need — just in our region."
Approximately 40 members of the team will once again join Wellesley College students, alumnae, faculty, staff and families to volunteer for Wellesley College's ninth annual "A Day to Make a Difference," Saturday, Sept. 6 and Sunday, Sept. 7. Last year, volunteers contributed more than 1,500 hours of work during the event.
"It's a great opportunity to start the year off with community service," said Melissa Hawkins, assistant director of Wellesley College's Center for Work and Service. "First-years and other students go and serve with alumnae, and it's an informal way to connect and network."
Volunteers will work at 12 sites, doing everything from cleaning up Revere Beach to harvesting produce for market at the Drumlin Farm Wildlife Sanctuary.
Some volunteers will dedicate their time to helping those in the Wellesley community as they work with Sister's Keepers, a group dedicated to finding resources and housing options for student mothers at Wellesley. Volunteers will help the group prepare for its annual rummage sale. This gives Wellesley students a way to help other Wellesley students, Hawkins said.
"Sister's Keepers is a type of project where you can see the immediate impact," said Eileen Crehan, a 2008 graduate of Wellesley and an organizer for the event. "The efforts on this project directly benefit the Wellesley College campus, so it is a way to make a difference in the lives of your peers."
Crehan said several other alumnae from the class of 2008 have already committed to working together on behalf of the group on A Day to Make a Difference.
Spillane will start her team's year off with the day of service as a way to show them there are many opportunities to serve in Boston and remind them of the important work to be done. She also sees it as a great way to start their season of work together.
"Wellesley does an amazing job of organizing this type of service day and it is wonderful to see so many participate — not just our current students and community, but also alumnae in the area," Spillane said.
To see a full list of projects and learn more about "A Day to Make a Difference," click here.
Since 1875, Wellesley College has been a leader in providing an excellent liberal arts education for women who will make a difference in the world. Its 500-acre campus near Boston is home to 2,300 undergraduate students from all 50 states and 68 countries. For more information, go to www.wellesley.edu.
###