Cleaning Up Urban Gardens

Prof. Dan Brabander and Student Researchers Are on the Look-out for Lead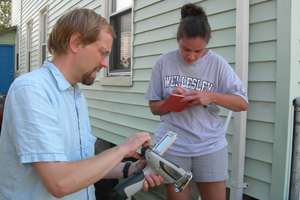 CITY SLEUTHING: Dan Brabander, associate professor of geosciences, and Davis Scholar junior Melinda Rios of Stoughton, Mass., at work in the field — in this case, a sustainable urban garden.
WELLESLEY, Mass. – Dan Brabander wants to put the green in – and take the lead out – of sustainable urban gardening. As associate professor of geosciences at Wellesley College, his research focus is at the intersection of environmental geochemistry and public health.
To that end, he has received funding from the U.S. Environmental Protection Agency and formed a partnership with Boston's The Food Project, a nonprofit organization that helps foster the development of organic urban gardens. For the past five years, Brabander and his student researchers have been looking at lead contamination in urban backyard gardens in Roxbury and Dorchester, Mass.
"After analyzing over 1,000 soil samples we have determined that the neighborhood average soil lead concentrations are over twice the EPA action level," Brabander said. The EPA action level is 400 parts per million of lead in soil.
GREEN BACKYARDS: Brabander and students look for lead contamination in a city garden.
His research tracks the sources of the contamination and evaluates how much lead in the soil is bioavailable, or able to be absorbed by a living organism. Lead exposure is connected to serious health issues, especially for children. Even small amounts measured in blood levels can cause learning disabilities and behavior problems in children and can contribute to high blood pressure, reproductive problems and memory loss in adults.
"Our latest research efforts have been focused on evaluating lead exposure pathways in neighborhoods where urban gardening is widely practiced," he said. "In partnership with The Food Project we are also designing and implementing remediation schemes which have included determining the feasibility of using certain metal-accumulating plants to remove the soil lead and the building of raised beds to isolate leafy vegetables from the contaminated soils."
This July, Brabander and two Wellesley student researchers, Debra Hausladen '09 and Heather Clark '07, published a research paper on the subject, "Urban Gardens: Lead Exposure, Recontamination Mechanisms and Implications for Remediation Design," in Environmental Research.
Does the presence of lead mean homeowners should drop their plans to grow better-tasting, cheaper produce for their tables? Not necessarily. Health officials suggest placing the garden away from buildings, which may have lead-based paints that can contaminate the soil, and, if the soil tests high for lead, to use raised beds with clean soil.
Since 1875, Wellesley College has been a leader in providing an excellent liberal arts education for women who will make a difference in the world. Its 500-acre campus near Boston is home to 2,300 undergraduate students from all 50 states and 68 countries.
###