Actors from the London Stage Present The Winter's Tale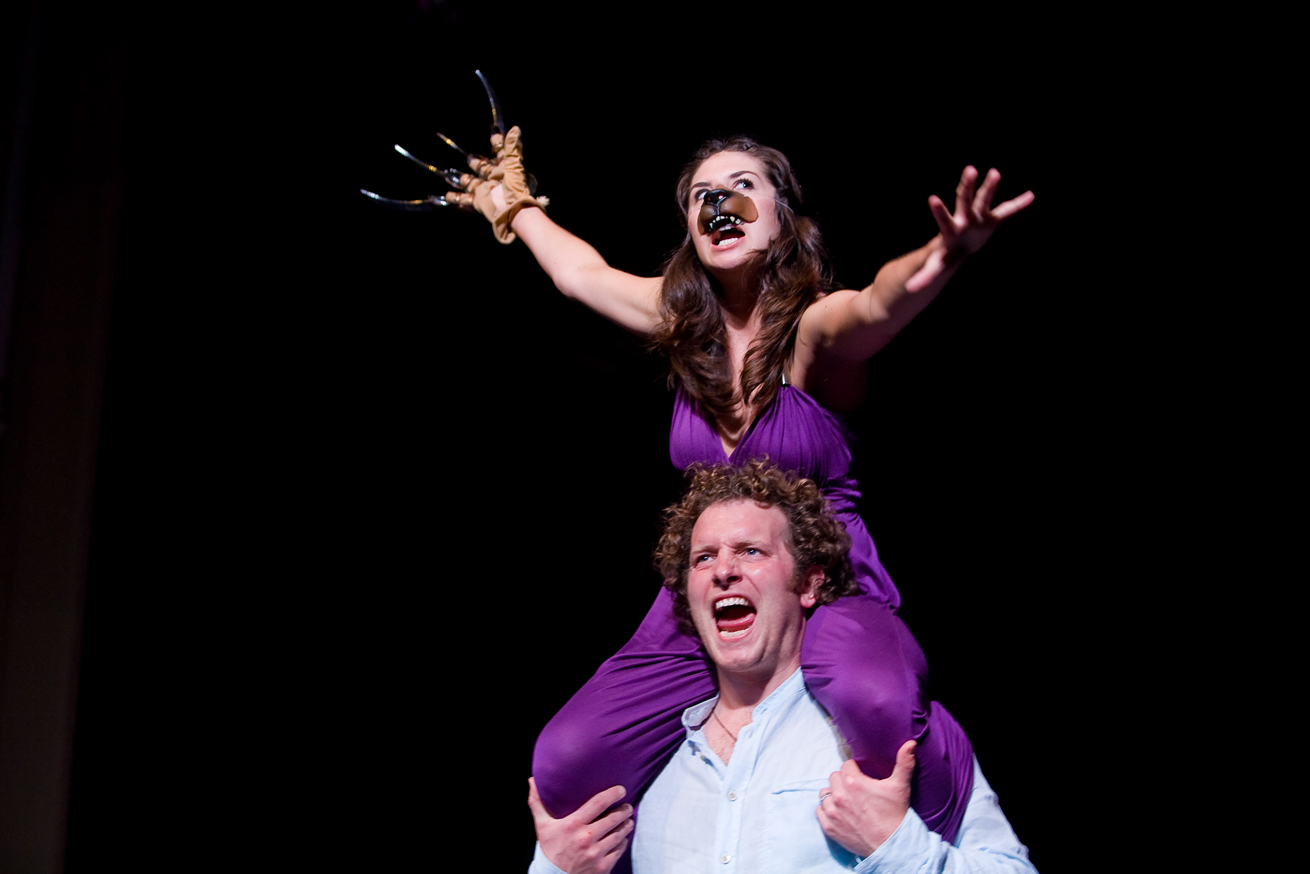 Actors Erin Brodie and Matthew Douglas perform a scene from The Winter's Tale.
Photo by Peter Ringenberg for Actors From The London Stage.
WELLESLEY, Mass. – Winter comes early to Wellesley College this year when the touring theater group Actors from the London Stage presents Shakespeare's romantic comedy The Winter's Tale Oct. 16-18.
In this tragicomic story of passion and charm, a jealous king accuses his wife of adultery, eventually executing her and exiling her newborn child. But when both the scorned daughter and the murdered queen return to haunt the king in unexpected ways, he learns difficult lessons about trust, love and family.
Actors Erin Brodie, Matthew Douglas, William Hoyland, Robert Mountford and Eunice Roberts will each play multiple roles during the performances, which will take place at 7:30 pm in Alumnae Hall on Wellesley's campus. They will work with simple settings and use audience interaction to render the classic Shakespeare work in a new light.
The group will remain at Wellesley for a weeklong residency, Oct. 13-18. In addition to performing, they will teach workshops for Wellesley theatre studies students during the week.
Actors from the London Stage, one of the oldest touring Shakespeare companies in the world, has made stops at Wellesley four times in previous years. Past productions at Wellesley have included The Tempest, All's Well that Ends Well and Hamlet. When not on tour, the group is based in England, with U.S. tours booked by the DeBartolo Performing Arts Center at Notre Dame University.
The Winter's Tale performances are free and open to the public; reservations are not necessary. For more information, contact Charlotte Peed at 781-283-2000.
Since 1875, Wellesley College has been a leader in providing an excellent liberal arts education for women who will make a difference in the world. Its 500-acre campus near Boston is home to 2,300 undergraduate students from all 50 states and 68 countries.
###