Wellesley Continues Popular Series of Election Events
WELLESLEY, Mass. -- Among the well-attended events on the Wellesley College campus are the political forums organized by the student–run Committee for Political and Legislative Action (CPLA) and Wellesley faculty members.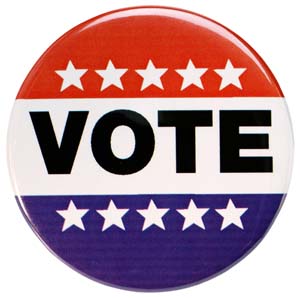 "It's very important for young people to vote," said David Lindauer, Stanford Calderwood of professor of economics and faculty director of Pendleton Hall. "It's important for students to be responsible for these programs so that when they leave college, it won't be the first time they have organized such an event."

Reflecting the strong interest in government and politics at Wellesley, the election events draw overflow crowds each time and have twice been covered by Boston's WCVB-TV news. Discussion and debate about the upcoming presidential election will continue this month with a series of events hosted by CPLA, a non-partisan committee of college government that strives to promote political awareness on campus.

A screening of the presidential town hall debate will be held Tuesday, Oct. 7, at 9 pm in the Pendleton Atrium. Hosted by Belmont University in Nashville, Tenn., the town hall format will allow citizens to pose questions to the candidates.

On Wednesday, Oct. 15, at 9 pm, the domestic and economic policy presidential debate will be screened at 9 pm. Immediately following, there will be a faculty talkback with three faculty from the economics department: Joseph Joyce, David Lindauer and Robin McKnight.

On election night, Tuesday, Nov. 4, beginning at 7:30 pm, CPLA and the Pendleton faculty director will provide an opportunity to watch the returns and enjoy refreshments. Wellesley's Marion Just and Hahrie Han of the political science department and David Johnson of the economics department will be part of a faculty panel Tuesday, Nov. 11, at 4:30 pm to discuss the results of the election.

All events will be held in Pendleton Atrium, which was redesigned to host such programs a few years ago.

"No one could have foreseen it would be transformed into this wonderful space," Lindauer said. "We thought it would be popular every four years, during the presidential elections, but in 2006, there was a bi-election very important to Congress, and then in 2008, Super Tuesday suddenly became as big as election night."

Senior Rose-Ellen El Khoury of Westboro, Mass., the CPLA chair, said the committee has been working with the Wellesley College Democrats and Republicans to get students involved in election events and registered to vote.

"We've been registering students to vote since the beginning of the year, and will be helping students get to the polls as well as distributing information about absentee ballots," she said.

For more information on CPLA events, e-mail CPLAmail@wellesley.edu.
Since 1875, Wellesley College has been a leader in providing an excellent liberal arts education for women who will make a difference in the world. Its 500-acre campus near Boston is home to 2,300 undergraduate students from all 50 states and 68 countries.
###