1920s Film, Flappers and Feminist Film Theory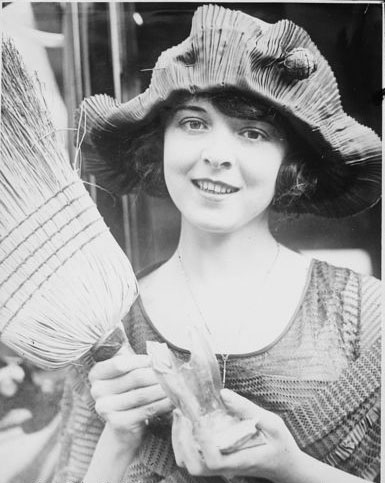 1920s film star Colleen Moore
WELLESLEY, Mass.— It was F. Scott Fitzgerald who dedicated the '20s to "Flaming Youth." In 1922, silent film star Colleen Moore bobbed her hair and launched the flapper image across the Hollywood screen. As Fitzgerald put it, "I was the spark that lit up Flaming Youth and Colleen Moore was the torch."
Laura Mulvey, the 2008-2009 Mary L. Cornille distinguished visiting professor in the humanities at Wellesley College, will discuss aspects of the "flapper film" within the context of feminist film theory during the lecture "The Movie Moderns: 1920s Cinema, the Flapper and Feminist Film Theory" Wednesday, Nov. 12, at 5:30 pm in Collins Cinema on the Wellesley College campus.
"Out of and alongside the growth of the American economy, grew the 'girl culture' of which the flapper was the celebrated and contested emblem," Mulvey said. "The 'movie moderns' were the stars who personified the new fast pace of modern life and who played to considerable box-office of young modern women and their newly discovered earning power."
Mulvey is a professor of film and media studies at Birkbeck College, University of London, and one of the world's leading critics and theorists of film. She is the author of the classic collection, Visual and Other Pleasures, Death Twenty-Four Times a Second: Stillness and the Moving Image and numerous other monographs. Both an award-winning critic and a filmmaker, she is a former director of the AHRB Centre for British Film and Television Studies and a fellow of the British Academy.
While at Wellesley, she will teach an undergraduate course, "Women in Cinema," direct a faculty seminar, "Cinema . . . in a Word: Emotion," and serve as a resident fellow at the Newhouse Center for the Humanities, where she will continue work on the films of Max Ophuls.

The Mary J. Cornille Distinguished Visiting Professorship in the Humanities was established in 2002 by a generous gift from Wellesley Davis Scholar Mary Cornille and Jack Cogan. For more information, call x2698.
Since 1875, Wellesley College has been a leader in providing an excellent liberal arts education for women who will make a difference in the world. Its 500-acre campus near Boston is home to 2,300 undergraduate students from all 50 states and 68 countries.
###