Renaissance Art and Marriage Combine in New Book by Wellesley Professor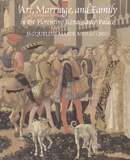 WELLESLEY, Mass. – Jacqueline M. Musacchio finds much about the Renaissance world that reverberates in our own times.
An associate professor of art at Wellesley College and a member of the Wellesley class of 1989, Musacchio has written a book focusing on timeless topics from a historical perspective in Art, Marriage, and Family in the Florentine Renaissance Palace (Yale University Press, November 2008).
"My book examines the intersection of art and the marriage ritual in the middle and upper class homes of 15th-century Florence," Musacchio said. "It analyzes the urban townhouse and its furnishings, and the relationship of this physical setting to the formation and ongoing life of the family who lived inside it, to provide an understanding of how families interacted with art on a daily basis in Renaissance Florence."
The book sheds new light on daily life in an Italian city five centuries ago.
"Several scholars have examined different aspects of the social and physical context of the Florentine family, but my book analyzes the palace and its furnishings as the setting for the performance of daily life, from the start of a household via marriage, through its growth and development in childbirth, and its termination and redistribution at death," Musacchio said.
Musacchio has explored related themes in a catalogue essay for the exhibition The Triumph of Marriage, which opened at the Isabella Stewart Gardner Museum in Boston and which will move to the Ringling Museum in Sarasota, Fla., in February. She spoke at a symposium at the Gardner Museum Nov. 8 along with Wellesley colleague Lilian Armstrong, professor emerita of art.
She is a catalogue author and a member of the organizing committee for Art and Love in Renaissance Italy, an exhibition that opened Nov. 10 at the Metropolitan Museum of Art in New York. She will speak about her new book at the Met on Dec. 5. The show will move to the Kimbell Art Museum in Fort Worth, Texas, in March.
Musacchio joined Wellesley last year to teach Italian Renaissance and Baroque art. After receiving a B.A. from Wellesley, she earned a Ph.D. from Princeton University. Prior to joining the Wellesley faculty, she was an associate professor of art at Vassar College.
Founded in 1875, Wellesley College has been a leader in providing an excellent liberal arts education for women who will make a difference in the world. Its 500-acre campus near Boston is home to 2,300 undergraduate students from all 50 states and 66 countries.
###