Twelve Wellesley College Seniors Win Awards
to Pursue Research from Planets to Politics
FOR IMMEDIATE RELEASE:
December 1, 2008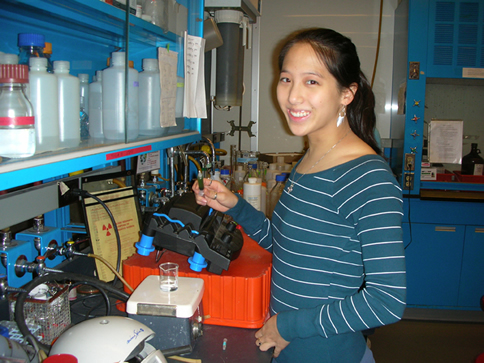 Schiff Fellowship winner Jean Yau '09 at work
WELLESLEY, Mass. -- Twelve Wellesley College seniors will study everything from the global anti-sweatshop movement to the orbiting behavior of Uranian moons. One study will focus on female identification and gender construction in the heavy-metal subculture. Another will work toward a behavioral characterization of schizophrenia, while still another will look at what motivated young voters in the recent presidential election.

They each have won the 2008 Jerome A. Schiff Fellowship. Made possible through a generous gift from the Jerome A. Schiff Charitable Trust, these awards support the scholarly work of students enrolled in the senior honors program.

Schiff Fellows receive a minimum award of $2,000. Some Fellows use their awards to reduce work obligations during the academic year to devote more time to research. In addition, students may apply for up to $1,000 to meet thesis-related research expenses. The maximum award is $3,000. With their awards, students are planning to undertake research on the Wellesley College campus as well as at the University of North Carolina at Chapel Hill, with fieldwork in Boston, New York City and Bangladesh, among other places.

Schiff Fellows are selected annually by Wellesley's Committee on Curriculum and Instruction. According to Associate Dean of the College Adele Wolfson, who headed the committee, the number of students working on theses at Wellesley has increased this year, as has the number of students applying for the Schiff Fellowship. "The size of the applicant pool was much larger this year, and we were very impressed with the quality of proposals," she said.

The following students are the 2008 Schiff Fellows along with their majors, research projects and faculty advisors:

• Jane Booth-Tobin, political science, for "Youth Political Participation: The Motivations and Organizing Techniques that Engaged Youth During the 2008 Presidential Campaign" (Hahrie Han, political science)

• Ashley Boulden, art history, for "Craft and Reproduction: Issues of Function, Style and Authorship in the Davis Museum's Album of 138 Ornament Prints" (Meredith Martin, art)

• Jocelin Yo-Jud Cheng, economics, for "Male Cross-Registrants at a Women's College: The Effects of Classroom Gender Composition on the Achievement of Wellesley College Students" (Patrick McEwan, economics)

• Hillary Chu, neuroscience, for "Behavioral Characterization of a Mouse Model of Schizophrenia" (Joanne Berger-Sweeney, biological sciences)

• Rebekah Dawson, astrophysics, for "Short Timescale Evolution of Chaotic Orbits of Uranian Moons" (Richard French, astronomy)

• Emma Ingrisani, English, for "Percy, Sterne and Kierkegaard: Irony and Sensibility" (James Noggle, English)

• Andrea Liang, economics, for "Do Trade Agreements Help or Hurt? An Analysis of the Effects of Trade Liberalization on Wage Inequality" (Malhar Nabar, economics)

• Rakeen Mabud, political science, for "The Anti-Sweatshop Movement: Realities and Politics of Global Labor Conditions" (Robert Paarlberg, political science)

• Rebecca McGowan, cognitive and linguistic sciences, for "Reflections of Language in Music: Comparing Rhythm and Melody in English Dialects and Music" (Andrea Levitt, French)

• Megan Turner, women's studies, for "Female Identification and the Construction of Post-Gender Identities in the Heavy Metal Subculture" (Irene Mata, women's studies)

• Jean-Huei Yau, biological sciences, for "Bioremediation of Lead (II) from Water Systems Using Cyanobacteria Immobilized in Calcium-Alginate" (Mary Allen, biological sciences)

• Bilin Zhuang, physics, for "Thermodynamics of Ising Models on Geometrically Frustrated Spin Systems: Analytical Methods and Monte Carlo Simulations" (Courtney Lannert, physics)

Wellesley College has been a leader in the education of women for more than 130 years. The College's 500-acre campus near Boston is home to 2,300 undergraduate students from all 50 states and 65 countries.
###