Madeleine Albright Wins 'Teddy,' the Highest Honor Bestowed by NCAA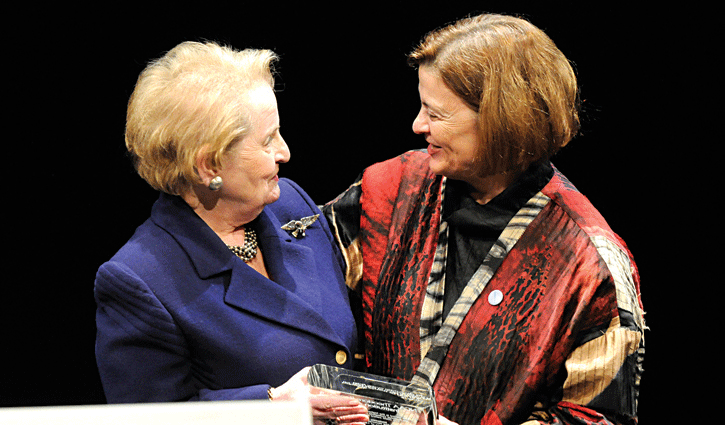 Madeleine K. Albright and Wellesley College President H. Kim Bottomly
accept the 2009 Theodore Roosevelt Award (NCAA Photos)
WELLESLEY, Mass. – Madeleine K. Albright, a member of the Wellesley College class of 1959 and former U.S. secretary of state, has been named recipient of the 2009 Theodore Roosevelt Award, the highest honor the National Collegiate Athletic Association (NCAA) bestows.
Albright is a best-selling author and principal of The Albright Group LLC and chair and principal of Albright Capital Management LLC.
The award, known as the "Teddy," will be presented January 15 at the NCAA Honors and Delegates Reception during the NCAA Convention in Washington, D.C. The Teddy is presented annually to a former NCAA student-athlete for whom competitive athletics in college and attention to physical well-being after graduation have been important factors in a distinguished career of national significance and achievement.
The award is named after President Theodore Roosevelt, whose concern for the conduct of intercollegiate athletics led to the formation of the NCAA in 1906. Past recipients of the Teddy have included a variety of public- and private-sector leaders including Byron R. White (1969); Omar Bradley (1973); Althea Gibson (1991); Bill Richardson (1999); William S. Cohen (2001); Eunice Kennedy Shriver (2002); Sally K. Ride (2005); Paul Tagliabue (2007) and former presidents Dwight D. Eisenhower (1967), Gerald R. Ford (1975), George H.W. Bush (1986) and Ronald Reagan (1990). Last year's award recipient was John H. Glenn Jr., former U.S. senator and NASA astronaut.
Albright earned a bachelor's degree with honors from Wellesley College, and master's and doctorate degrees from Columbia University's Department of Public Law and Government, as well as a certificate from its Russian Institute.
While at Wellesley, Albright, then Madeleine Korbel, participated in numerous sports and recreational activities, which were not yet varsity sports, including swimming, rowing and field hockey. She was a news editor for The Wellesley News, the student newspaper, and was a member of the College Democrats. She actively campaigned for Adlai Stevenson in his 1956 presidential bid.
Albright served as the 64th secretary of state of the United States. She was the first woman secretary of state and the highest-ranking woman in the history of U.S. government. As secretary of state, Albright reinforced America's alliances, advocated democracy and human rights and promoted American trade and business, labor and environmental standards abroad. Serving as a member of the President's Cabinet and National Security Council for eight years, she was the United States permanent representative to the United Nations from 1993 to 1997.
Albright is a principal and founder of The Albright Group LLC, a global consulting firm. She is the first Michael and Virginia Mortara Endowed Distinguished Professor in the Practice of Diplomacy at the Georgetown University School of Foreign Service. She chairs both the National Democratic Institute for International Affairs, and the Pew Global Attitudes Project and serves as president of the Truman Scholarship Foundation. She co-chairs the UNDP's Commission on Legal Empowerment of the Poor, serves on the board of directors of the Council on Foreign Relations, the board of trustees for the Aspen Institute and the board of directors of the Center for a New American Security.
Albright is the author of three New York Times best sellers. Her autobiography, Madam Secretary, was published in 2003. In 2006, Albright published The Mighty and the Almighty: Reflections on America, God, and World Affairs. Her latest book, Memo to the President: How We Can Restore America's Reputation and Leadership, was published in 2008.
The Teddy honoree is selected by the NCAA Honors Committee. Members of the committee are Gene Corrigan, former Atlantic Coast Conference commissioner; Timothy W. Gleason (chair), commissioner, Ohio Athletic Conference; Calvin Hill, consultant, Alexander & Associates, Inc.; Jackie Joyner-Kersee, former UCLA track and field student-athlete and Olympian; Gibbs Knotts, faculty athletics representative, Western Carolina; Robert Lawless, president emeritus, Tulsa; Roxanne Levenson, associate director of athletics, Pepperdine; Barbara Walker, senior associate director of athletics/senior woman administrator, Wake Forest; and Willie Washington, director of athletics, Benedict.
Since 1875, Wellesley College has been a leader in providing an excellent liberal arts education for women who will make a difference in the world. Its 500-acre campus near Boston is home to 2,300 undergraduate students from all 50 states and 68 countries.
###