Wellesley College Celebrates 200 Years of Charles Darwin
WELLESLEY, Mass. -- On the Origin of Species— Charles Darwin's ground-breaking book describing how evolution occurs by natural selection —changed everything, according to Olivia Judson, an evolutionary biology blogger for The New York Times.
Evolutionary biologist Olivia Judson will speak as part of a month-long celebration of Charles Darwin at Wellesley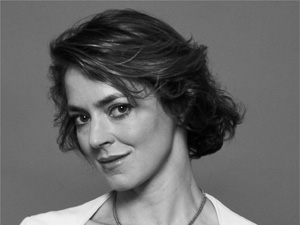 "Before the 'Origin,' the diversity of life could only be catalogued and described; afterwards, it could be explained and understood," Judson wrote. "Before the 'Origin,' species were generally seen as fixed entities, the special creations of a deity; afterwards, they became connected together on a great family tree that stretches back, across billions of years, to the dawn of life. Perhaps most importantly, the 'Origin' changed our view of ourselves. It made us as much a part of nature as hummingbirds and bumblebees — or humble-bees, as Darwin called them —; we, too, acquired a family tree with a host of remarkable and distinguished ancestors."
Judson will present the lecture, "Glad to Have Evolved," Feb. 17 at Wellesley College, part of a month-long commemoration of the life and work of Charles Darwin. The celebration will honor both the 200th anniversary of Darwin's birth and the 150th anniversary of On the Origin of Species.
"Charles Darwin's 1859 work, On the Origin of Species contains both exhaustive evidence supporting the fact of evolution and an argument for natural selection as its principle mechanism," said Emily Buchholtz, the Gordon and Althea Lang '26 professor of biological sciences at Wellesley. "This is the seminal text in the field of biology, as it changed our view of ourselves, revealing our genealogical relationship to all living
organisms. This profound insight has influenced the arts, social sciences, and sciences, shaping our modern world."
Events also include a faculty symposium and rare books exhibit. All are free and open to the public:
Wellesley College faculty in the arts, sciences and social sciences will address the influence of Darwin on their fields during the symposium, "Darwin's Impact." The event will take place on the anniversary of Darwin's birth — Thursday, Feb. 12, at 4 pm in Tishman Commons, Wang Campus Center. Speakers include Wellesley's Lee Cuba, sociology; Silke Brodersen, German literature; Becky Bedell, visual art; Andrea Sequeira, natural history; Emily Buchholtz, biology; and Mark Helm, of Andover Newton Theological School, religion. Wellesley Professor of Biological Sciences Gary Harris will convene the panel.
A rare books exhibition, "Before and Beyond Darwin," will be on display for the month of February in the Clapp Library Crozier Reference Room. Milestone evolutionary texts from the Wellesley College Special Collections include books by scientists that predated and anticipated Darwin, a first edition of On the Origin of Species and books by some of Darwin's colleagues and intellectual heirs.
Evolutionary biologist Olivia Judson, a research fellow at Imperial College London, will deliver Wellesley's 2009 Wilson Lecture, "Glad to Have Evolved," Tuesday, Feb. 17, at 8 pm in Jewett Auditorium.
An award-winning science writer and journalist, her first book, Dr. Tatiana's Sex Guide to All Creation, is structured as an advice column where various organisms write about the peculiarities of their sex lives. The Washington Post said the guide to the evolutionary biology of sex "manages the improbable feat of uniting in one volume the cosmic perspective of Charles Darwin with the titillating curiosity of Dr. Ruth."

Judson also writes a weekly evolutionary biology blog, "The Wild Side," for The New York Times.
Since 1875, Wellesley College has been a leader in providing an excellent liberal arts education for women who will make a difference in the world. Its 500-acre campus near Boston is home to 2,300 undergraduate students from all 50 states and 68 countries.
###