Activist Denis Halliday Reflects on United Nations'
Disappointments and Opportunities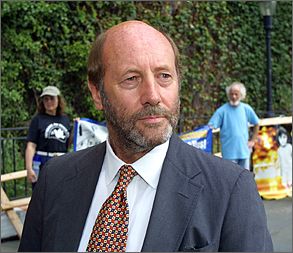 STILL SPEAKING OUT: Denis J. Halliday resigned from the United Nations in protest of Iraq sanctions.
WELLESLEY, Mass. -- After more than three decades of work at the United Nations, Denis J. Halliday became an international activist who travels the world speaking out for peace. On Wednesday, Feb. 4, at 4:30 pm, his travels will bring him to Wellesley College's Jewett Auditorium, where he will present "Reflections on the United Nations: Disappointments and Opportunities, Where Do We Go From Here?"

Halliday, known for his special Irish gift for forceful and entertaining public speaking, is one of a rare breed: an Irish Quaker. He draws on his long international career and his deep engagement in the leading issues of our times, especially those related to justice, reconciliation and peace-making.

Halliday famously resigned as U.N. assistant secretary general in October 1998 while serving in Baghdad as head of the U.N. Humanitarian Program. He had been responsible for the "Oil for Food Program," which allowed Iraq under Saddam Hussein to sell oil in order to purchase essential humanitarian supplies. A U.N. charter cut off the program; the sanctions were not lifted for several years.

"The incompatibility with the spirit and letter of the charter constitutes a tragedy for the United Nations itself, and severely threatens to undermine the U.N.'s credibility and legitimacy as a benign force for peace and human well-being throughout the world," Halliday noted in a speech on Capitol Hill at the time of his resignation.

By resigning, Halliday was free to speak out publicly about the sanctions and the realities of policies that thwart the U.N.'s capacity to promote peace and justice, a goal he continues to pursue.

"He exposed the sanctions program in Iraq for what it was, a bankrupt policy that had a dreadful impact on the people of Iraq, especially the children," said Joel Krieger, Wellesley professor of political science. "Few know the United Nations from the inside out better than Denis Halliday, who has seen it all. And none who have experienced the setbacks and know so intimately the challenges the United Nations faces, can better explain the future role the U.N. can—and must—play in creating a more just and peaceful world."

Since resigning from the U.N., Halliday has been a visiting professor of peace studies at Swarthmore College and a lecturer in international relations at Trinity College Dublin. With a master's degree from Trinity College Dublin and an honorary Ph.D. from Swarthmore College, he has been nominated for the Nobel Peace Prize and is a recipient of the prestigious Gandhi International Peace Award. For more information, call the Wellesley College Department of Political Science at 781-283-2194.
_______________
Since 1875, Wellesley College has been a leader in providing an excellent liberal arts education for women who will make a difference in the world. Its 500-acre campus near Boston is home to 2,300 undergraduate students from all 50 states and 68 countries.
###