Anthropology Conference Features Students From Greater Boston Area
WELLESLEY, Mass. -- Do folk songs have a cultural function? Are vampires more than just fantasy creatures? Does the American "culture" of breast cancer actually promote the disease? Seven Wellesley College students will answer these questions, and more, when they participate in the Greater Boston Anthropology Consortium (GBAC) Student Conference, hosted at Wellesley Friday, Feb. 27, from 8:30am to 5 pm in Collins Cinema.
Wellesley College junior Samantha Bellach in the nurses' station at Hospital Robles, a HIV/TB hospital in Guatemala
that is the subject of her upcoming presentation on patient life.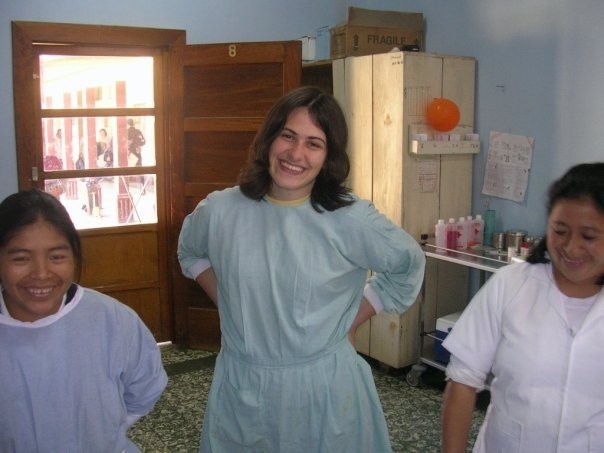 Along with undergraduate and graduate students from five other Boston-area institutions, the students will present their research throughout the day in both paper presentations and poster displays. The event will mark GBAC's sixth annual student conference, and the second that Wellesley has hosted. In addition to presentations and discussion, conference participants will also be competing for prizes in various categories, which will be awarded at the end of the day.
According to Philip Kohl, anthropology, who is involved in organizing the conference, Wellesley students can benefit from entering their anthropological research into competition with other students in the area.
"This is a tremendously valuable, confidence-building exercise for our students — who, not surprisingly, do very well," he said.
Listed below are the students who will participate in the conference, along with the titles of their research projects.
Emily Šaras '10. "Dainos of Independence: How Lithuanians are Using Folk Song to Reestablish Their Ethnic Identity."


Kendall LaSane '09. "Shooting Up Together: An Exploration into Heroin Subculture in Boston."


Teresa Le '11 (poster presentation). "Illness in the Cure: How the Breast Cancer Trend Promotes the Disease."


Samantha Bellach '10 (poster presentation). "Are Our Hospitals too Sterile? Ethnographic Insights from an HIV Clinic in Guatemala."


Jennifer Pawson '09 (poster presentation)."Balkan Vampires: Constructing Myths, Cultures and Realities."


Steph Tung '09 (poster presentation)."Re-Envisioning the ABCs of Mandopop: Who Owns the American-born Chinese Musicians of Mandarin Pop Music?"


Jessica Yoo '10 (poster presentation). "You're a Korean from Where???"

Wellesley College has been a leader in the education of women for more than 130 years.The College's 500-acre campus near Boston is home to 2,300 undergraduatestudents from all 50 states and 65 countries.
###