Wellesley Student Annie Smith Receives Funding from Kathryn Wasserman Davis 100 Projects for Peace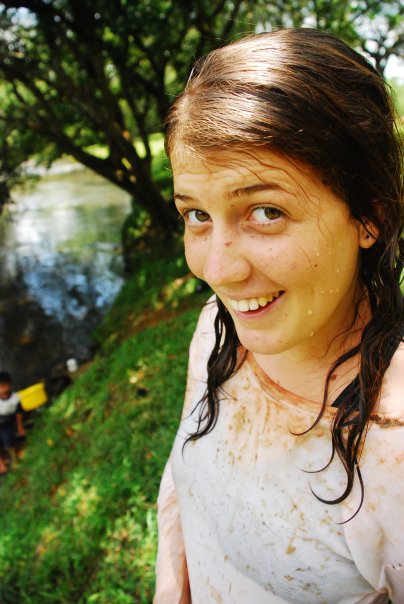 Wellesley College sophomore Annie Smith will pursue her project, "Give a Man a Fish, Teach a Man to Fish... Or Provide Aquaculture?" this summer in Panama.
WELLESLEY, Mass. -- The Kathryn Wasserman Davis 100 Projects for Peace program has announced that Wellesley College sophomore Annie Smith, daughter of Ruth Ann Kelleher of Panama, will receive funding to undertake her proposed project, "Give a Man a Fish, Teach a Man to Fish…Or Provide Aquaculture?" The project, to be implemented in northern Panama this summer, proposes a unique solution to poverty and malnourishment among indigenous people.

The Projects for Peace initiative, now in its third year, is supported by Wellesley College alumna and trustee emerita Kathryn Wasserman Davis, an accomplished internationalist and extraordinary philanthropist. Davis, on the occasion of her 100th birthday in 2007, established the program with a donation of $1 million so that each student project would receive $10,000. A member of the Wellesley class of 1928, Davis celebrated her 102nd birthday this year and her 80th class reunion last June.

"My many years have taught me that there will always be conflict," said Davis. "It's part of human nature. But love, kindness and support are also part of human nature, and my challenge to these young people is to bring about a mindset of preparing for peace instead of preparing for war."

For her project, Smith will help construct fishponds in four community-learning farms run by the Ngöbe-Buglé, a Panamanian indigenous group. She will work alongside
agricultural engineers and 34 Ngöbe-Buglé families to carry out the project. Smith will be responsible for obtaining materials, organizing and directing work on the fishponds and leading instructional workshops to train community members in aquaculture.

According to Smith, these Ngöbe-Buglé communities need an immediate source of food while they rebuild from recent flood damage in the area. The fish will also provide nutrition for future generations.
"This project promotes peace by allowing for the preservation of an indigenous people and their traditions, which have been threatened because of a lack of nourishment," she said. "The project not only attempts to aid a declining indigenous group vital to Panamanian culture, but also focuses upon the needs of those subject to recent natural disasters."
The winning Projects for Peace, from students at nearly 100 colleges and universities, all propose specific plans of action that will have lasting effects – from youth empowerment and education programs to improved community water supplies to a multitude of agrarian enterprises in countries where famine is pervasive. Last summer, Wellesley College sophomore student Margaret Chidothe received funding through Projects for Peace, which she used to put on a theater workshop for teenagers orphaned by the HIV/AIDS epidemic in South Africa.
A complete list of the participating schools and projects, as well as a summary of the 2008 projects and a video interview with Davis from 2006, is available at www.davisprojectsforpeace.org.
Since 1875, Wellesley College has been a leader in providing an excellent liberal arts education for women who will make a difference in the world. Its 500-acre campus near Boston is home to 2,300 undergraduate students from all 50 states and 68 countries.
###