Wellesley Student Awarded a Watson Fellowship
for Travel and Exploration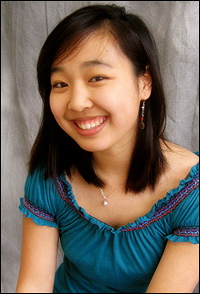 Wellesley senior Courtney Sato will travel the world as she pursues her project, "'Writing Toward Home': Tracing Poets and Places."
WELLESLEY, Mass. -- Wellesley College senior Courtney Sato has often received the same advice from writing mentors: write what you know. For Sato, this has often meant recalling her childhood neighborhood, remembering the scent of her grandmother's orchids or reflecting on her college years by the shores of Lake Waban on the Wellesley campus.
She brought this idea to her thesis, "Sources of Light: Poems," a poetic study of the places she has called home —Hawaii, Wellesley, and Kyoto, Japan.
The daughter of Greg and Faith Sato of Honolulu, Hawaii, she will continue her study on place with the project "'Writing Toward Home': Tracing Poets and Places," funded by a prestigious Thomas J. Watson Foundation fellowship. Sato, one of 40 college seniors to be awarded the fellowship, will receive $28,000 for a year of travel and exploration.
During her year abroad, Sato will travel to the homes and neighborhoods of international poets to explore how their sense of home influenced their writing and to build "a vocabulary of spaces and places." Her current plan is to live in Provence, France; Bellaghy, Ireland; St. Lucia and the Republic of Trinidad and Tobago; Prague, Czech Republic; and Worpswede, Germany.
In addition to immersing herself in several poets' playgrounds, Sato said she will create her own poems in response to the settings and share them with the communities through poetry readings, literary publications and meetings with other poets.
"I want exposure and to absorb myself in these places— but I also want to give back to the people and share my poetry with them," she said.
Shower Trees for Grandma
by Courtney Sato
It's late August, a few weeks before I leave again.
As usual, the shower trees are blooming.
They bloom later and later each year, you say.
They're so pretty, but make such a mess.
The discarded petals litter the streets
blowing in huge gusts, they hit the windshield
as we drive up the windy hillside road,
a light plunk against the glass and we look up.
You imagine that the coral and white confetti
enveloping your car is Minnesota snow
(you haven't seen snow for decades
since Grandpa went to law school in Minnesota).
You tell me again, they leave so much litter
and you're right—they're always shedding
tiny inverted thumbprint petals, yellow pistils,
and a flurry of pollen and oval leaves.
In eight months, after eleven hours of planes
and layovers, you will greet your granddaughter
under Boston shower trees, here where
they always bud plump and burst through June.
Sato planned her trip's conclusion in Germany, where one of her favorite writers, Rainer Maria Rilke, spent much of his time. Unlike the other poets she will be studying, Rilke lived a nomadic lifestyle.
"A century has passed since Rilke wrote to love the 'questions themselves,' a notion that mirrors the Watson's mission," she wrote in her fellowship proposal. "I envision my Watson year as a journey perfectly suited for a poet: an expedition of great inner solitude, of ripening poetic voice, where I expose and develop my appreciation for poetry with others from diverse poetic traditions."
This year's Watson fellows will travel to 78 countries to study everything from cloud formation in high latitudes to the competitive Rubik's Cube subculture of "speedcubing."
"The awards are long-term investments in people, not research," said Cleveland Johnson, director of the Watson Fellowship Program and a former Watson Fellow. "We look for persons likely to lead or innovate in the future and give them extraordinary independence to pursue their interests outside of traditional academic structures. Watson Fellows are passionate learners, creative thinkers and motivated self-starters who are encouraged to dream big but demonstrate feasible strategies for achieving their fellowship goals. The Watson Fellowship affords an unequalled opportunity for global experiential learning."
While at Wellesley, Sato has served as president of the Hawaii Club and co-coordinator of the Wellesley Asian Alliance, has participated in the Wellesley Dancers and has worked as a public speaking tutor. Following her year abroad, Sato hopes to pursue a career that will allow her to promote the arts, and may possibly pursue an MFA in poetry.
"I know I will continue writing," she said. "That's the most important thing."
To read more about the fellowship, visit www.watsonfellowship.org/site/index.html.
Since 1875, Wellesley College has been a leader in providing an excellent liberal arts education for women who will make a difference in the world. Its 500-acre campus near Boston is home to 2,300 undergraduate students from all 50 states and 68 countries.
###