Wellesley College Celebrates the Boston Marathon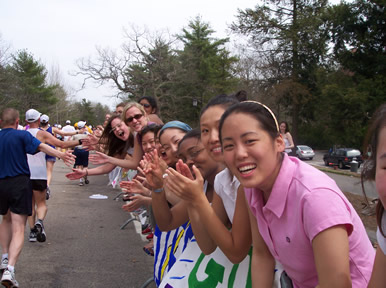 WELLESLEY, Mass. -- Located near the midpoint of the Boston Marathon, the Wellesley College "scream tunnel" is so loud that runners say they can hear it from a mile away.
For runner Marion Keough, the tunnel was the high-point of her first marathon last year.
"Everyone had told me about the Wellesley girls, but until I reached them I didn't believe it," she wrote in a note to the college following the marathon. "They were so supportive, funny and a sight to behold! They gave me such an incentive to keep on going. What a high!!!"
Again this year, hundreds of students will crowd the campus sidewalks to offer runners water, oranges, high-fives and kisses, at the 113th running of the Boston Marathon, Monday, April 20.
This year's official Wellesley marathon T-shirt, designed by sophomore Elizabeth Hubertz, found inspiration from the recently popular "Free Hugs" T-shirts. The front of this year's shirt reads "Free Kisses." The back reads, "One Day Only: Wellesley Scream Tunnel: Boston Marathon, 4-20-2009."
"The idea was born last year during the marathon when my lack of a 'KISS ME' sign lowered my runner smooching average," Hubertz said.
Hubertz, a member of the Wellesley cross-country team, ran from the scream tunnel to the finish during last year's marathon.
"It is by far the most intense endurance athletics event I have ever witnessed," she said. "The spectator support is ridiculous. I have never seen so many people so excited about distance running. It is absolutely inspiring." To view photos from last year's scream tunnel, visit www.runnersworld.com/boston2008/wellesley/.

This year's Wellesley Boston Marathon T-shirt was designed by sophomore Elizabeth Hubertz.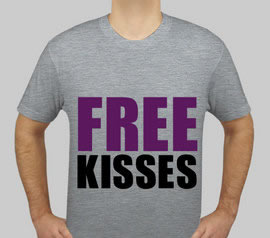 Since 1875, Wellesley College has been a leader in providing an excellent liberal arts education for women who will make a difference in the world. Its 500-acre campus near Boston is home to 2,300 undergraduate students from all 50 states and 68 countries.
###