Nobel Laureate Eric Chivian Keynotes Earth Week
Celebrations at Wellesley College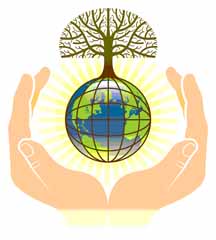 WELLESLEY, Mass. -- Nobel Peace Prize laureate and biologist Eric Chivian has spent time studying the effects of climate change on Inupiaq Eskimos in Alaska. His unusual collaboration with evangelical minister Richard Cizik to promote the environmental cause landed them both on Time Magazine's 2008 list of the 100 most influential people in the world.
Chivian, the director of Center for Health and Global Environment at Harvard, will discuss his latest book, Sustaining Life: How Human Health Depends on Biodiversity, Tuesday, April 21, at 4:30 pm in Collins Cinema on the Wellesley College campus. His lecture serves as the keynote event for this year's Earth Week at Wellesley.
"In planning Earth Week this year, we tried to convey that there are a lot of different but interrelated environmental issues that need to be addressed but that there are also a lot of creative solutions, some of which are already integrated into our lives," said junior Emily Estes, a member of Wellesley Energy and Environmental Defense (WEED.) "We wanted to have a range of events that were fun but relevant and political but thought-provoking."
The week will kick off when Wellesley students attend a Focus the Nation conference at Boston College April 18, aimed at lobbying state officials to support legislation for clean energy. Back at Wellesley, the student-run Sustainability Co-Op will hold an open house April 19 at 3 pm, featuring homemade local ice cream and a discussion about eating locally.
Other events include a WEED fundraiser on Monday, April 20, at 10 am in Munger Hall, where students can decorate tote bags and T-shirts. A tour of the power plant and a lesson on cogeneration will be held Wednesday, April 22, at 1:15 pm in front of the physical plant. On Friday, April 24, Martina Koniger, biological sciences, and Robert Paarlberg, political science, will discuss the use of genetically modified organisms and their views on biosafety and world food security at 12:30 pm in Pendleton Atrium.
WEED will host a volunteer day at Broadmoor Wildlife Sanctuary Saturday, April 25, leaving at 8: 30 am. A Farm, Food and Justice Expo will be held Sunday, April 26. Community members are encouraged to meet at 12:45 in the Sustainability Co-op, Simpson Hall, to walk over to the Weston Road plot to plant seeds and talk about local produce and hunger issues. For more information and to RSVP to volunteer at Broadmoor Wildlife Sanctuary, contact eestes@wellesley.edu.
Since 1875, Wellesley College has been a leader in providing an excellent liberal arts education for women who will make a difference in the world. Its 500-acre campus near Boston is home to 2,300 undergraduate students from all 50 states and 68 countries.
###