Climate Change Threatens Unique Life Found at Russian Lake
The bottom and top of the food chain depend on disappearing ice

FOR IMMEDIATE RELEASE:
May 5, 2009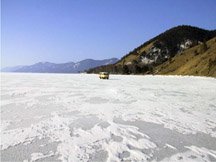 WELLESLEY, Mass. -- Russia's Lake Baikal, the world's largest and most biologically rich lake, faces the possibility of severe ecological disruption as a result of climate change, according to an analysis by a joint U.S.-Russian team in the May issue of BioScience.
Marianne V. Moore, associate professor of biological science at Wellesley College, wrote the article with five coauthors, including four from Irkutsk State University in Russia. Moore and her colleagues note that Lake Baikal's climate has become measurably milder over recent decades, and that annual precipitation is expected to increase. Maximum ice depth in the lake decreased 10 percent in recent decades, and the ice-free season has lengthened by 18 days. Changes in the lake's food-web composition have also been documented, a food chain that ranges from algae to seals.
"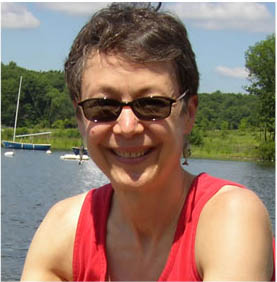 Baikal is uniquely threatened by climate change because the bottom and top of the food web are vulnerable to projected changes in ice dynamics resulting from climate warming," said Moore, at left. "Also, melting permafrost will probably endanger the lake by exacerbating the loading of industrial pollutants and chemicals that stimulate algal growth."
The lake is considered a treasure trove for biologists and was designated a World Heritage Site by UNESCO because a high proportion of its rich fauna and flora are found nowhere else.
Unfortunately, Moore and her coauthors conclude that the lake's food chain is vulnerable to the increasingly shorter time that the body of water is frozen each winter. Future shortening in the duration of ice cover and changes in ice transparency are expected to curtail the growth of the dominant algae in the lake.
The algae bloom under the ice in springtime and are highly dependent on ice cover for their reproduction and growth. These unique algae and associated microorganisms make up the principal food of tiny crustaceans abundant in the lake, and these are in turn preyed upon by the lake's fish.
On the other end of the food chain, the Baikal seal, the lake's top predator and the world's only exclusively freshwater seal, is also threatened by shortened periods of ice cover. Because adult seals give birth on the ice and raise their young for 2-3 weeks in snow-ice caves where they are protected from predators, premature melting of the ice will adversely affect reproduction. In addition, earlier melting of ice will force adults into the water before molting is completed, drastically reducing their fertility.
A warmer, wetter climate may be the principal threat to Lake Baikal's unique biological heritage, but it is not the only one. The secondary effects of climate change, including greater (and potentially harmful) inputs of plant nutrients and industrial pollution from melting permafrost, may also exact a toll on an already stressed ecosystem.
The authors stress that Russians have long been dedicated to the well-being of Lake Baikal, and that there is substantial support for its protection. Nonetheless, they say, stepped-up monitoring is necessary. Furthermore, international commitments and action will be needed to limit climate change there, which is arguably the most pervasive danger to the lake.
Since 1875, Wellesley College has been a leader in providing an excellent liberal arts education for women who will make a difference in the world. Its 500-acre campus near Boston is home to 2,300 undergraduate students from all 50 states and 68 countries.
###