Wellesley Senior Maya Smith to Fight Malaria with Tony Blair Faith Foundation

FOR IMMEDIATE RELEASE:
May 12, 2009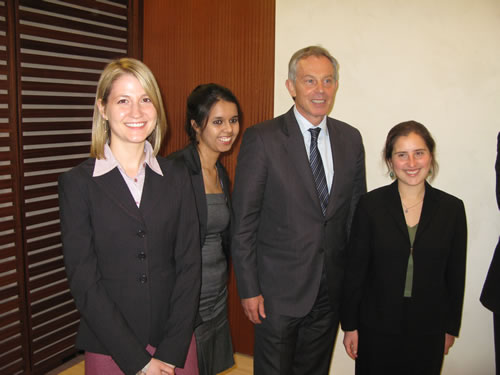 Smith (far right) and other Faiths Act Fellows pose with Tony Blair during his visit to Montreal.
WELLESLEY, Mass. --Not everyone gets to chum around with Tony Blair. But Wellesley College senior Maya Smith got the chance when she traveled to Toronto last month during World Malaria Week to hear the former British prime minister speak on the role of faith communities in eradicating malaria.
Smith is one of 30 young leaders from the United States, United Kingdom and Canada chosen to participate in the Faiths Act Fellowship, sponsored by the Tony Blair Faith Foundation. Starting this summer, the multi-faith group of fellows will embark on a 10-month faith-based campaign to fight the spread of malaria in Africa.
The Faiths Act fellows will take advantage of built-in faith networks provided by places of worship in African villages. According to the program's Web site, "The Faiths Act Fellows will galvanize faith communities in the developed world to support those in Africa, and demonstrate that if faiths work together, they can do even more than what has been achieved apart."
Smith, a philosophy major at Wellesley, said she is excited to build upon the inter-faith dialogue and organizing skills she has gained as a member of Wellesley's Multi-Faith Council and as a volunteer at Boston Jewish Vocational Services. She also looks forward to implementing a multi-faith strategy to target the problem of malaria.
"What is so upsetting about malaria is that, with nets, malaria can be radically prevented," she said. "I think this program is important because the goal is not to re-invent the wheel, but rather to work with the resources that are already on the ground in the hopes of building progress out of partnerships."
Since 1875, Wellesley College has been a leader in providing an excellent liberal arts education for women who will make a difference in the world. Its 500-acre campus near Boston is home to 2,300 undergraduate students from all 50 states and 68 countries.

###