Wellesley College Senior Catlin Powers Wins $75,000 Environmental Prize
She's the founder of an organization that empowers communities to achieve
healthier living solutions through science and engineering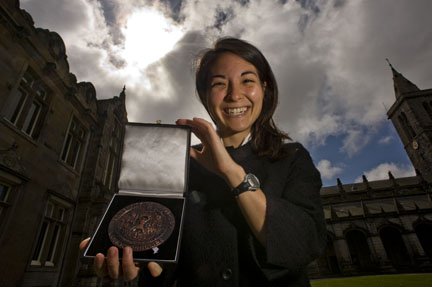 Wellesley senior Catlin Powers will use the $75,000 award to support her organization's innovative solar cooker.
WELLESLEY, Mass. -- While living in remote areas of India and China, Wellesley College senior Catlin Powers found her fellow women faced with difficult living conditions.
Lhamotso, a Waku villager, told her, "My mother and I are very short, but my brothers are tall. When I was little, I asked my mother why she was so short. She told me that I too would be short because of the heavy burdens of fuel and water that we women carry."
Powers decided to take action by working with communities to design simple solutions to meet their needs.
Although she graduates this June, Powers already embodies the Wellesley tradition of women who will make a difference in the world. As chief operating officer and co-founder of One Earth Designs (OED), she has spent as many as 50 hours a week during her college years fighting to bring heat, clean water and other necessities to those in need — from the high-altitude regions of the Himalayas to economically depressed areas of the Dominican Republic, Ghana and India.
The daughter of Charles Henry Powers and Joan Takahashi Powers of Los Gatos, Calif., Powers has been recognized for her work with several prizes this spring, including $75,000 from the St. Andrews Prize for the Environment, which will support OEDs' invention that harnesses clean energy from the sun.
In collaboration with villagers and students from MIT, Powers created SolSource 3-in-1, an innovative solar cooker that also generates heat and electricity . The design, which won an additional $6,000 from the Clinton Global Initiative this month, is made from local resources.
(View a Discovery Channel segment on Powers' solar device here.)
Powers, center, with her team and the
SolSource 3-in-1 solar cooker.
"Not only will this award allow us to reach many more Himalayan communities, but it will help us build the capacity to support other interested organizations worldwide to adapt the SolSource 3-in-1 to local needs," Powers said.
The St. Andrews Prize recognizes significant contributions to environmental conservation.
"We are looking for entrepreneurs on behalf of the environment – applicants able to champion original and innovative environmental ideas, which they can show to be realistic and realizable and which take account of social and economic implications," said Sir Crispin Tickell, chairman of the St. Andrews Prize.
(To view the 2009 St. Andrews event, including a segment featuring Powers, click here.)
Two of Power's other projects have won awards from MIT's IDEAS Competition. HeatSource Textiles, a One Earth Designs initiative aimed at providing a sustainable heating option for low-income communities, won the $7,500 Lemelson- MIT Award for International Technology. The design employs the phase change properties of low-grade candle wax (paraffin) to provide a mobile form of energy storage and controlled heat delivery. The wax melts near human body temperature, storing large amounts of heat during the melting process. When the person wearing it gets cold, the wax solidifies and releases heat. When the person gets hot, the wax melts again and absorbs excess heat. The textiles are fully reusable and can also be recharged with solar energy when people aren't wearing them.
Powers' Global Citizen Water Initiative won a $5,000 IDEAS award and an additional $5,600 from various smaller grants to continue its work to bring healthy drinking water to communities worldwide. Powers has collaborated with Wellesley College alumnae Kathleen McCarthy '08 and Susan Murcott '90, as well as colleagues from MIT, Cornell, the Earth Institute and Qinghai Normal University on the project, which is operating in Ghana, China, India, the Philippines and the Dominican Republic. The project works with local agencies, universities and health clinics to teach villagers how to test their own water sources using simple, inexpensive kits, then uses this information to find appropriate local treatment providers. In addition, the project's Web site— although still in the development phase — will provide an online map of this data so that researchers and health regulators can help these villagers.
The Citizen Water testing kit in action.
"The project is based on taking citizen science one step further — into the hands of low-income rural communities in developing countries," she said.
Powers, who will graduate with degrees in environmental science and chemistry, will start a doctoral program in environmental health at the Harvard School of Public Health this fall. Her work will focus on indoor air pollution in the Himalayan region.
She will also continue as the COO of One Earth Designs. The organization recently formed a partnership with a nomadic school in Qinghai, China, to run a pilot curricula covering topics from how to build latrines to waste management to the maintenance of healthy water supplies.
"We hope that this is the start of a movement toward bringing more hands-on curriculum into rural Himalayan classrooms," she said.
Powers notes that her work has always been dependent on a dedicated, international team of villagers, students and professionals.
"I welcome all who wish to join us in this endeavor," she said.

Wellesley College has been a leader in liberal arts and the education of women for more than 130 years. The College's 500-acre campus near Boston is home to 2,300 undergraduate students from 50 states and more than 65 countries.
###