Wellesley Senior Mona Minkara Finds No Limits to Her Future

Legally Blind, She Has Been Chosen as the 2009 Student Speaker
at Wellesley College's 2009 Commencement


FOR IMMEDIATE RELEASE:
June 2, 2009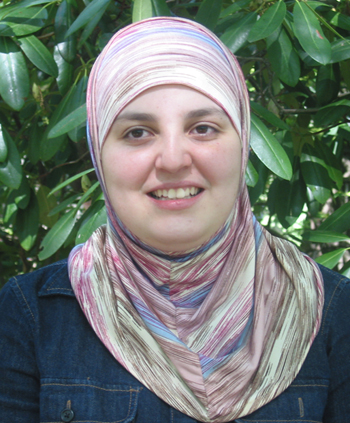 WELLESLEY, Mass. -- At age 7, Mona Minkara started seeing wild colors swirl through her vision. Doctors first dismissed her symptoms, but eventually her family learned a startling diagnosis: Their daughter was suffering from macular degeneration and cone-rod dystrophy. She was going blind.
Her eyesight growing steadily dimmer, Minkara spent most of her school years in special education classes, bored and restless. As a sophomore at Hingham (Mass.) High School, she rejected lowered expectations and asked to study advanced biology. Although warned she would not succeed, Mona soon proved her critics wrong.
"I got the highest grade in that class," she said, "and I thought, 'Oh, snap!' After that, I thought I could do everything advanced and so I went for it."
On June 5, Minkara will stand before 600 fellow members of the class of 2009 at graduation from Wellesley College. After a writing and speaking competition, she has been selected as the student commencement speaker, a tradition at Wellesley since 1969 when Hillary Rodham Clinton served as the first student speaker for her class.
"It's an honor," said Minkara, who is now legally blind. "I hope disabled students around the country can realize you can make it even though you might be blind, or deaf, or whatever your story might be."
AN AMERICAN DREAM: The daughter of Lebanese immigrants Fida El-Jamal and Samer Minkara of Hingham, Mass., Minkara spoke Arabic before learning English. Her sister Sara, who also has vision problems, has followed in her footsteps and is a junior at Wellesley.
A devoted Muslim who has worn the hijab head cover since sixth grade, she sometimes felt different and isolated from other schoolmates due to her blindness and minority status. But that didn't crush her drive to succeed.
"It's made me stronger and taught me to be who I am," said Minkara.
BRINGING UNDERSTANDING: At Wellesley, Minkara has served as president of Al-Muslimat, Wellesley's Muslim student group, where she has focused on interfaith outreach.
"It gave me a chance to be a liaison with other religious groups," Minkara said. "It's important to learn about each other, considering the 9/11 backlash and the awful things other Muslims have done around the world. It's good to show that's not what (Muslims) are all about."
CHEMISTRY CHALLENGES: A chemistry and Middle Eastern studies double major, she will continue this summer at Wellesley as a researcher with assistant professor of chemistry Mala Radhakrishnan through a grant from the Howard Hughes Medical Institute. This year Minkara has studied computational chemistry with Professor Radhakrishnan, investigating how enzymes and proteins recognize one another, research aimed at improving medicines for diseases such as HIV.
"Her ongoing work has already led to some interesting insights about the importance of certain specific drug-target chemical interactions in this system," Radhakrishnan said. "She successfully defended her senior thesis in late May and has also presented posters describing her work this year at the Biophysical Society Meeting in Boston and the American Chemical Society Meeting in Salt Lake City. Mona is a very dedicated, hard-working student with an extremely positive and enthusiastic disposition. She can light up a room with her enthusiasm and smile."
GIVING BACK: "I hope one day I can give back to others because so many people have helped me, especially my parents," said Minkara, whose mother strongly encouraged her to apply to Wellesley, one of the eight colleges that accepted her. Another person she expresses gratitude for is Pam Davis, an aide who has worked with her for the past two years.
Davis has been struck by Minkara's ability to memorize her way around the vast Wellesley campus – and by her courage.
"Mona explained during the first few days that I started to work with her, 'I'm not afraid to fall. That's why I can walk around with such confidence.' Mona acts like she can see so that the people around her feel comfortable and so that they do not treat her as if she were 'different' or less than whole. This wonderful combination of traits, no fear of falling and a sensitivity to other's feelings, really typify Mona's personality. She is perhaps the bravest person I have ever met."
Since 1875, Wellesley College has been a leader in providing an excellent liberal arts education for women who will make a difference in the world. Its 500-acre campus near Boston is home to 2,300 undergraduate students from all 50 states and 68 countries.
###