Two Wellesley Seniors Receive First Chinese Consulate Scholarships

FOR IMMEDIATE RELEASE:
May 26, 2009
WELLESLEY, Mass. -- Two Wellesley College seniors will further their education after college with scholarships given for the first time by the Chinese Consulate General of New York. The awards will allow them to study for a year at any one of 100 Chinese universities.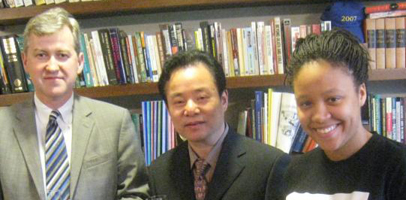 CHINA BOUND: Wellesley senior Kwanza Fisher, right, celebrates her year-long scholarship to study in China with Dean of the College Andrew Shennan, left, and Consul Cen Jianjun, head of education section at the Chinese Consulate of New York.
Seniors Kwanza Fisher of Lithia Springs, Ga., and Chanda Wong of Fresh Meadows, N.Y., are the inaugural winners of the new scholarships. Both have strong skills in the Mandarin Chinese language, and look forward to improving those skills through their studies.

This month, three representatives of the education division of the Chinese Consulate of New York visited Wellesley to make a formal presentation of the scholarships and to discuss future collaborations with President H. Kim Bottomly and other administrators, faculty and staff. The Chinese government scholarships will be awarded on an annual basis for three years.

"As we know, Wellesley has a long tradition of connections to China," said Charles Bu, professor of mathematics at Wellesley, who is Chinese-American. "This is the first time in history that the Chinese government has awarded scholarships to Wellesley."

Fisher, the daughter of Meta P. Fisher of Atlanta, Ga., and Charley H. Fisher III of Buffalo, N.Y., is an East Asian studies major interested in the imagery of women in contemporary Chinese art. She earlier received grants from Wellesley College to study this topic in Beijing, working under the supervision of Heping Liu, associate professor of Asian art history and chair of Wellesley's Art Department. She has been a member of Ethos, a student organization for women of African descent, and has participated in Ethos TV and the Chinatown Afterschool program.

"I am very blessed to have this opportunity, the first that will hopefully mark a long Wellesley-China tradition," Fisher said. "From this I hope to gain deeper cultural insight and develop the advanced Mandarin skills that will be useful in future professional endeavors." She plans to pursue a career based in business or art, with an emphasis on education.


Wong, left, an economics major, is aiming for a career in U.S.-China relations. She studied with the Wellesley-in-Shanghai summer program, and has taught English in Yangzhou, China. She has also been an intern at the Asia Society in New York City as well as the U.S. Department of Labor.

"This scholarship presents an opportunity to become fluent in the language," Wong said. "It is especially exciting because I won't just be learning in the classroom but also from my peers and surroundings. I hope to significantly improve my Chinese, but more than that, I hope to better understand the connections between U.S.-China society and political economy."

The daughter of Moon Tong and Lena Wong of Fresh Meadows, N.Y., she has been co-president of the Wellesley Chinese Students' Association and features editor of GenerAsians Magazine. She earned First Year Academic Distinction and studied abroad at the School of Oriental & African Studies in London and with the Wellesley-Shanghai Program at East China Normal University, receiving support from the Mayling Soong Fund. She also volunteered in Hanoi, Vietnam, at an orphanage on a Wellesley College Center for Work and Service travel grant.
Since 1875, Wellesley College has been a leader in providing an excellent liberal arts education for women who will make a difference in the world. Its 500-acre campus near Boston is home to 2,300 undergraduate students from all 50 states and 68 countries.
###