Wellesley College Celebrates 131st Commencement Friday, June 5


FOR IMMEDIATE RELEASE:
June 5, 2009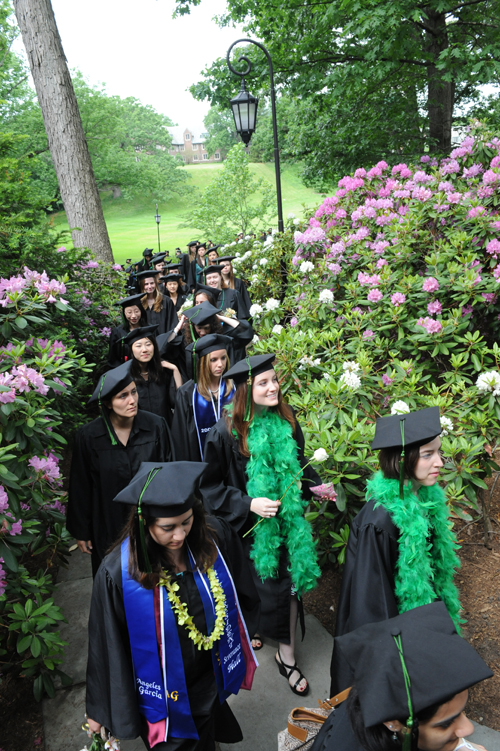 WELLESLEY, Mass. – Under a green canopy of towering oak trees, the 573 members of Wellesley College's Class of 2009 received their diplomas during the college's 131st Commencement ceremonies Friday, June 5.
Wellesley alumna from the class of 1987 Kimberly Dozier, a CBS News correspondent who became the victim of a 2006 car bombing in Baghdad, Iraq, delivered the Commencement address. She focused on the importance of learning what is most important an unpredictable and changing world.
"What I hope you find, or choose, is that you are not defined by your job or your major but by an internal compass of your own making—and that wherever you end up—and believe me, you will end up in jobs that you think are beneath you, pitted against bosses or professors you think don't appreciate you or understand you. I hope that when you run into those walls, you will learn to do what I've had to learn the really hard way: You step back and say, okay, why am I here? Was it for the title, or the prestige? Or is it what I hope to accomplish in this job, on this planet? Your work becomes just part of a mission."
Mona Minkara, 21, of Hingham, Mass., served as the student commencement speaker, a tradition at Wellesley since 1969 when Hillary Rodham Clinton addressed her fellow seniors. Minkara, who is legally blind, broke barriers in her goal to study chemistry. She succeeded in her goal, including earning a Howard Hughes Medical Institute grant to do research in computational chemistry this summer at Wellesley.
Minkara encouraged her classmates to consider kindness and empathy as hallmarks of an excellent education.
"As I await my diploma, I fully realize that I would not have been able to make it to this stage today, if it hadn't been for the help of so many individuals who have aided me, every single step of the way," she said. "From my fellow classmates who helped me with my reading each day to professors who met with me regularly to go over concepts and were willing to adjust their teaching techniques, I was never alone in my journey. If it wasn't for these individuals—family, friends, faculty, staff, and even strangers along the way—who took time out of their lives and their ambitions, I would not have been able graduate with all of you today. Their kindness and generosity has inspired me to strive to help others."
Wellesley President H. Kim Bottomly addressed the Class of 2009, offering words of encouragement and hope for the future, relating the road ahead to the traditional hoop rolling contest Wellesley student have taken part in for more than a hundred years.
"Think of it as rolling your hoop through life," Bottomly said. "It is going to be crowded. It is going to take determination. But, like our hoop rolling, it is going to be fun."
She encouraged the class to find their passion and follow it.
"Having passion for what you do helps, particularly when those around you are bumping you off course and knocking over your hoop. And since you will have a multifaceted life, you will have more than one passion, more than one hoop to roll. Passions don't always emerge fully formed. Give them time to develop, and most importantly, allow them to develop. Welcome your new passions."
Finally, she reminded them of the Wellesley network of support that has been passed down, year after year.
"Tomorrow you will be the newest Wellesley alumnae and waiting for you out there are over 36,000 big sisters ready and eager to help you," Bottomly said. "And 20, 30, 50 years from now, you will be the big sisters of graduating classes. Our alumnae are a true sisterhood."
For more about Wellesley College's Commencement, which will include videos, photos, full text of the speeches, faculty and student prize-winners and other stories, please go to Commencement/.
Since 1875, Wellesley College has been a leader in providing an excellent liberal arts education for women who will make a difference in the world. Its 500-acre campus near Boston is home to 2,300 undergraduate students from all 50 states and 68 countries.
###