Wellesley Students Win Beckman Scholarships for Scientific Research
WELLESLEY, Mass. -- Wellesley College students Adriane Otopalik and Allison Xie have won Beckman Scholarships. The awards, which are approximately $20,000, will fund two summers and one academic year of scientific research.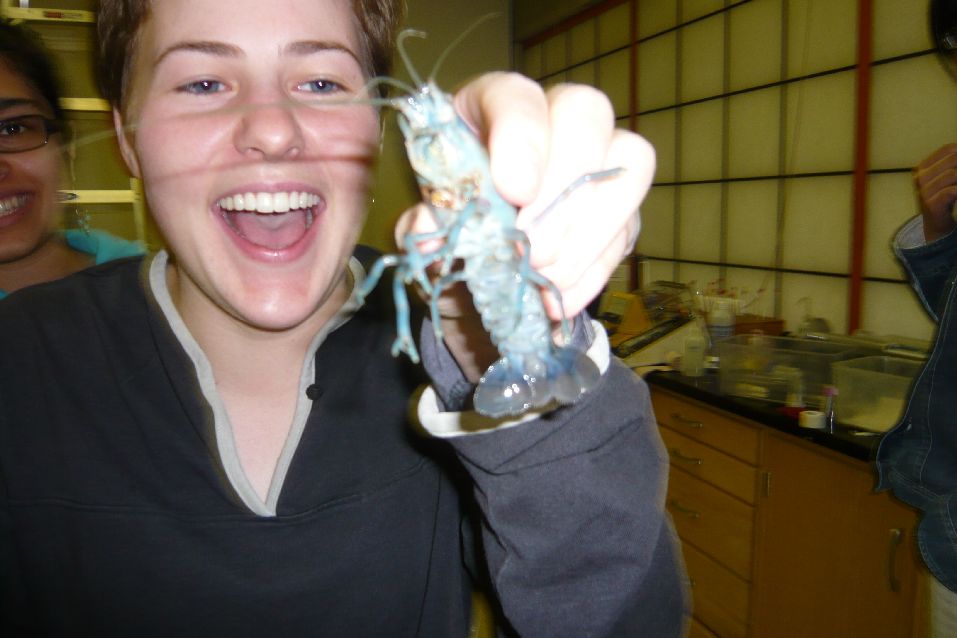 Wellesley College junior Adriane Otopalik is using crayfish
for neuroscience research.
Otopalik, a junior from Mankata, Minn., will continue her research in the laboratory of Wellesley College Professor of Chemistry Nancy Kolodny. She is studying Activity-Induced Manganese Magnetic Resonance Imaging (AIM MRI) of invertebrates, in collaboration with Wellesley College Professor of Neuroscience Barbara Beltz. Using a crayfish, the study aims to visualize the organism's neural activity.
"With this method, we will be able to visualize stimulated brain regions in invertebrate animals, which, otherwise, do not respond to typical functional MRI due to their lack of hemoglobin," Otopalik said.
Otopalik will also work on a project investigating neurogenesis in crayfish.
"In the past several years, the Beltz Lab has identified a neurogenic niche — a cluster of cells producing new neurons — in the brain of Procambarus clarkii, another type of crayfish," she said. "I am investigating the question of how this neurogenic niche is maintained."
Wellesley College senior Allison Xie is studying Buforin II, a potential alternative to traditional antibiotics.
The Beckman scholarship will fund Allison Xie's biochemistry research in Wellesley College Assistant Professor of Chemistry Donald Elmore's laboratory on Buforin II, a possible alternative to traditional drugs
"A cell-penetrating antimicrobial peptide, Buforin II is interesting for its potential use in drug delivery and provides an alternative to traditional antibiotics," said Xie, a senior from Pearl City, Hawaii.
They will present on their research to other Beckman Scholars at a national conference in 2010.
"At the Beckman Conference, I will also have opportunities to attend lectures presented by and interact with scientific researchers who are leading scholars in their field," Otopalik said.
While both students are strongly committed to the sciences, they have appreciated the value of a liberal arts education.
"Having not taken science very seriously during my high school years, I came to Wellesley College expecting to be a humanities major," Otopalik said. "But after taking chemistry, math and neuroscience courses during my first year, I couldn't resist taking more science."
Otopalik has been a member of the Chamber Music Society, the Brandeis-Wellesley Orchestra and the Neuroscience Club. She has volunteered with the Mentoring in the Sciences Program and at the Newton-Wellesley Alzheimer's Center.
Xie, who is a biochemistry and history double major, serves as vice president of Clio, Wellesley's history club.
"Though history and biochemistry may seem two very divergent fields of studies, I have benefited greatly from learning critical thinking skills from both perspectives," she said.

Since 1875, Wellesley College has been a leader in providing an excellent liberal arts education for women who will make a difference in the world. Its 500-acre campus near Boston is home to 2,300 undergraduate students from all 50 states and 68 countries.
###