Wellesley College Senior Explores Educational Achievement Gaps
WELLESLEY, Mass. – Wellesley College senior Victoria-Diane Allison, daughter of Karlene Sinclair and Cedric Allison of Brooklyn, N.Y., has been selected to conduct research at the 2009 Urban Institute Summer Academy for Public Policy Analysis and Research in Washington, D.C.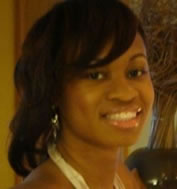 Victoria-Diane Allison explored the effects of teachers' expectations on male African-American students.
Allison, a sociology major, focused her summer research on education for young African-American males, a group that is falling behind in graduation rates and test scores due to factors including income inequality and unequal educational opportunities. She explored how one contributing cause of the achievement gap— teachers' expectations— affects the educational outcomes for this group.

"Teachers are leaders and role models, and they can play a vital role in the way students perceive themselves," she said. "Therefore, this summer I questioned: How are teacher expectations associated with the growth in mathematics achievement of African-American males relative to white males? I hypothesized that higher teacher expectations have a greater positive impact on the achievement of African-American males than on white males."

The academy, which is supported by the Ford Foundation, addresses the underrepresentation of minorities and people from distressed communities in public policy research. The ten undergraduate students chosen to participate in the program attend policy seminars, hone their analytical skills and write policy briefs under the guidance of Institute mentors.
"I believe education is opportunity and the Urban Institute Summer Academy has, most of all, given me the voice and confidence to pursue a career in educational policy and consulting, so that I can one day make a difference," she said.
At Wellesley, Allison is active in Ethos, an organization for students of African descent; serves on the Committee for Curriculum Instruction and the Martin Luther King, Jr. Memorial Committee; and is house president of Claflin Hall. She has interned at Team Revolution in Brooklyn, N.Y., and at the New York City Department of Education. Following graduation, she plans to teach before pursuing a doctorate in education and ultimately working as an educational consultant or education policy expert.
Since 1875, Wellesley College has been a leader in providing an excellent liberal arts education for women who will make a difference in the world. Its 500-acre campus near Boston is home to 2,300 undergraduate students from all 50 states and 68 countries. For more information, go to www.wellesley.edu.
###