Wellesley College Educator Leads Team Awarded Grant
to Improve the Quality of Mathematics Instruction in Massachusetts
WELLESLEY, Mass. – A strong grasp of quantitative reasoning (QR) skills— knowledge of logic, math and basic statistics — serves as the basis for multiple other disciplines, from physics to political science. Yet all too often, mathematics turns off high school students — especially when taught in abstract ways with little application to real world problems. Students entering college often find themselves lacking the prerequisite QR skills needed to succeed.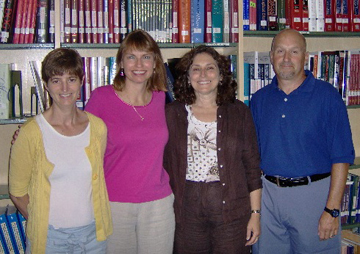 The quantitative reasoning professional development team, from left: Janine Lloyd, Corrine Taylor, Bernice Speiser and Peter Mili.
Corrine Taylor, director of the quantitative reasoning program at Wellesley College, aims to remedy that. She is leading a two-week QR workshop for middle and high school teachers this month at the Normandin Middle School in New Bedford, Mass., supported by a grant from the Massachusetts Department of Higher Education.
"We hope this pilot program will succeed in helping teachers adopt a QR-approach to teaching mathematics, to better prepare their students for the authentic quantitative problems they will encounter in school and in life," Taylor said.
During the professional development course, participants will learn about Wellesley College's approach to QR, which involves posing problems, having students figure out what tools are required to solve the problem, and then offering lessons on using problem-solving tools. Teachers attending the course will work to develop their own problems and projects that are applicable, interesting and engaging for their students. They will also learn how colleges assess QR readiness and course placement.
Taylor is working with a team — Bernice Speiser, a senior lecturer in Wellesley's education department; Janine Lloyd, a professor of math at Mass Bay Community College; and Peter Mili, a teacher at Cambridge Rindge and Latin School. Following the workshop, the team will hold two follow-up meetings and will be available for online mentoring and support.
Funding for the course—its development, teaching, texts and other materials, and participant stipends— is fully provided by the Massachusetts Department of Higher Education's Improving Teacher Quality grant program, funded by the Title II: Part A of the No Child Left Behind Act of 2001.
Since 1875, Wellesley College has been a leader in providing an excellent liberal arts education for women who will make a difference in the world. Its 500-acre campus near Boston is home to 2,300 undergraduate students from all 50 states and 68 countries.
###