Summer Meant 121 Research Challenges at Wellesley College
WELLESLEY, Mass. – Do any stargazing this summer? So did Wellesley College and Colgate University students in a research project called "A Search for Circumstellar Disks and Planetary-Mass Companions around Brown Dwarfs in Taurus."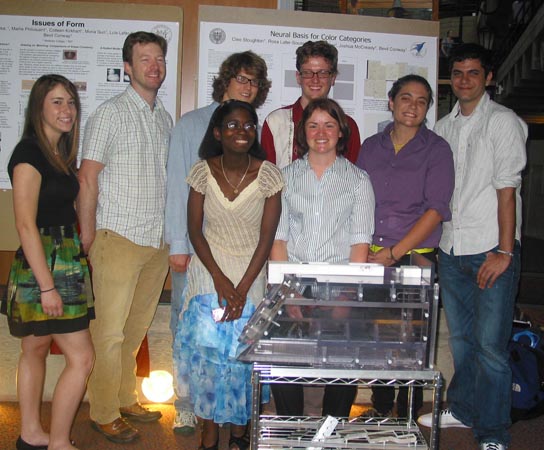 SUMMER QUEST: Among projects undertaken at Wellesley College this summer was neuroscience research into the development of this bed to comfortably hold a monkey during MRI testing. Participants included (back row, from left) Wendy Feinstein, a student at Framingham High School; advisor Bevil Conway, assistant professor in Wellesley's Neuroscience Department; Franklin W. Olin College of Engineering seniors Joshua McCready and Eric Erziner; Wellesley graduate Rosa Lafer-Sousa; and MIT junior Luis Lafer-Sousa; and (front row, from left) Wellesley senior Marlie Philiossaint and junior Cleo Stoughton.
Go on a whale watch? One Wellesley student watched whales with a scientist's perspective in a project titled "Functional Morphology of the Mammalian Tail: Predicting the Course of Whale Fluke Evolution."

See bees buzzing in the garden? Another Wellesley student looked at bees a little more deeply in a research project, "Differences in Waggle-Dance Pheromone Production Among Patrilines in a Honey Bee, Apis Mellifera, Colony and Effects on Dance-Following Behavior."

This summer, 121 students from Wellesley College and other institutions took part in 10 weeks of summer research.

"Doing science is the best way to learn science," said Mary Allen, Wellesley professor emerita of biological sciences and a director of the program. "Having a summer to delve into a significant research project in collaboration with a faculty mentor gives a student the best opportunity to see what science is all about."

The research opportunity not only offers the chance to explore a subject with mentors and a peer group, but it also helps a student plan a possible future.

"Putting all her effort into the research, she can discover if this is what she wants to be involved in in the future, as well as finding out much about herself and how to solve problems," Allen said.

Ninety-nine students received stipends to work on campus with 37 professors of astronomy, biological sciences, chemistry, computer science, cognitive and linguistics sciences, economics, environmental studies, geosciences, history, mathematics, neuroscience, philosophy, physics, political science, psychology and sociology. Wellesley's Science Center supported the off-campus research of nine Wellesley students. Ninety-one of the student researchers are from Wellesley College; eight attended from outside institutions.

Grants and stipends to underwrite this research came from a wide variety of funds and foundations, from the Howard Hughes Medical Institute to the National Science Foundation.

Through Science Center research, students attended seminars by faculty and outside experts and gave presentations of their research. They learned about graduate school and career options, and two bus-loads of students took a field trip to Plum Island with Wellesley College Professor of Biological Sciences Nicholas Rodenhouse to observe birds, animals and hear about his research, which focuses on population ecology, particularly the demography and ecology of migratory songbirds.

Through the Social Sciences research program, supported by the Office of the Dean of the College, 13 students attended workshops on public speaking, ethics, bibliographic tools and visual design. On Aug. 13, students from both programs presented their research results at an all-campus event.
Since 1875, Wellesley College has been a leader in providing an excellent liberal arts education for women who will make a difference in the world. Its 500-acre campus near Boston is home to 2,300 undergraduate students from all 50 states and 68 countries.
###