Wellesley College Teams Up With Google to Change Introductory Computing
WELLESLEY, Mass. – Over the past 10 years, computing has become central to our lives – with many people using smartphones to bring the Web with them everywhere they go. Online environments like Facebook, Second Life, Twitter, Wikipedia and blogs have flourished, increasingly blurring the line between online and offline life.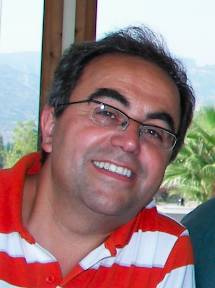 "It is becoming clear that problems existing in our real world transfer and get amplified in the virtual world," said Wellesley's P. Takis Metaxas.
"It is becoming clear that problems existing in our real world transfer and get amplified in the virtual world created by the highly interconnected and ubiquitous computing," said P. Takis Metaxas, associate professor of computer science at Wellesley College.
Google Research is collaborating with faculty at a handful of colleges to explore the changing nature of computing through the development of pilot courses to be offered to beginning students.
Metaxas, along with Wellesley Associate Professor Franklyn Turbak and Visiting Scholar Eni Mustafaraj, has designed a new course, "The Socio-Technological Web," to be offered this fall. Google will provide 20 Android smartphones to students in the class who will use and develop mobile applications for social interaction.
The course will start by studying the structure of the traditional Web and its recent successor, the Social Web, and will focus on issues of virtual identity, personal and group privacy, trust evaluation and propagation, online security, critical thinking, online propaganda, googlearchy, fraud and manipulation, restricted resources, class differences, self-perception and decision-making.
Wellesley College sophomore Dominique Hazzard said she registered for the course to learn how the Web sites she spends time on— including Facebook, YouTube and Wikipedia— work and how they are changing the way people communicate and get information. She hopes to leverage this information to advance her future pursuits.
"Since the Social Web is becoming increasingly useful and relevant as a community organizing tool, and since I spend a lot of my time working to get media for the youth climate change movement, I hope to use what I learn in this class to help my organization reach more people with our message and our campaigns," she said.
Ball State University, University of Colorado Boulder, Georgia Tech, Harvard, Indiana University, Mills College, MIT, Olin College, University of California at Berkeley, University of Michigan, University of Queensland and University of San Francisco are also participating in the collaboration.
"With this course we aim to help our students not only demystify the way omnipresent gadgets work, but, importantly, to empower them about using, understanding and affecting the social Web," Metaxas said.
Since 1875, Wellesley College has been a leader in providing an excellent liberal arts education for women who will make a difference in the world. Its 500-acre campus near Boston is home to 2,300 undergraduate students from all 50 states and 68 countries.
###