Three College Presidents Announce Babson-Olin-Wellesley
Collaboration at Community Celebration
| | SHARING STRENGTHS: Presidents Miller, Bottomly and Schlesinger spoke about the Three College Collaboration Sept. 9 at Babson College. |
| --- | --- |
WELLESLEY, Mass. – Babson, Olin and Wellesley college presidents held a Sept. 9 community celebration of their new three-college agreement that builds on geographic proximity and complementary educational strengths to explore an expanded partnership among the three institutions.

The Sept. 9 event took place in the Wellesley Room of Olin Hall at Babson College.
Babson President Leonard A. Schlesinger, Olin President Richard K. Miller and Wellesley President H. Kim Bottomly discussed the vision behind the expanded partnership and the first collaborative program to emerge. They will call on the community for ideas and suggestions for making the most of their joint resources.
"The combined strengths of Wellesley, Olin and Babson offer our students an even wider array of opportunities and options to enhance their college years," Bottomly said. "This partnership aims to inspire our faculty, students and staff to share and expand their knowledge and insights. It will serve as a new, cooperative model for higher education."
The three colleges have different strengths to bring to the collaboration that will benefit one another.
"I think the nation is eager for educational institutions to engage in innovative collaborations like this that increase the educational opportunities for students while helping to control the costs of a college education," Miller said. "Our three institutions have distinct missions that overlap very little, but that offer great possibilities for synergy, and we hope to capitalize on this."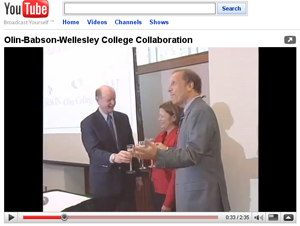 "What's so exciting about this partnership is that three academic institutions, each renowned in its own right, recognize that their future capacity to achieve their vision is enormously increased through collaboration," Schlesinger agreed.
Since 1875, Wellesley College has been a leader in providing an excellent liberal arts education for women who will make a difference in the world. Its 500-acre campus near Boston is home to 2,300 undergraduate students from all 50 states and 68 countries.
###