Captivating Voices of African and Caribbean Literary Tradition To Perform at Wellesley College in October
WELLESLEY, Mass. -- The Newhouse Center for the Humanities at Wellesley College will present two major programs in October that are free and open to the public.
Colin Channer, Newhouse visiting professor in creative writing
On Monday, Oct. 5, at 7 pm in Wellesley's Schneider Hall Theatre, Jamaican-American novelist Colin Channer will present a monologue, "How to Beat a Child the Right and Proper Way," a contrarian look at mother-daughter relationships. Channer is the Newhouse visiting professor in creative writing at Wellesley and founder and artistic director of the annual Calabash International Literary Festival in Jamaica.
"How to Beat" will feature storytelling, lighting design and live music. New York-based Barbadian singer/songwriter David Pilgrim will play acoustic guitar, percussion and electric bass.
The New York Times called "How to Beat" "something of a tour de force spoken in different registers of Jamaican English." The Times Literary Supplement in the U.K. describes the piece as a "hilariously digressive monologue delivered by a Jamaican woman to a class of mature students in the United States." Channer last performed "How to Beat" in 2007 at the Public Theater in New York.
"The story is based on an actual incident that took place in my family," said Channer. "My sister was a teenager at the time. I didn't want to tell another 'my-immigrant-mother-abused-me story.' Those are easy to write. Those get easy praise. Telling the story from the mother's point of view gave me the opportunity to explore an amazingly complicated headspace –- one shaped by gender, class, religion, race, tectonic shifts in geopolitics, and smaller, more local shifts toward liberal thought in a conservative place. It also gave me a voice whose pitch was made for comedy."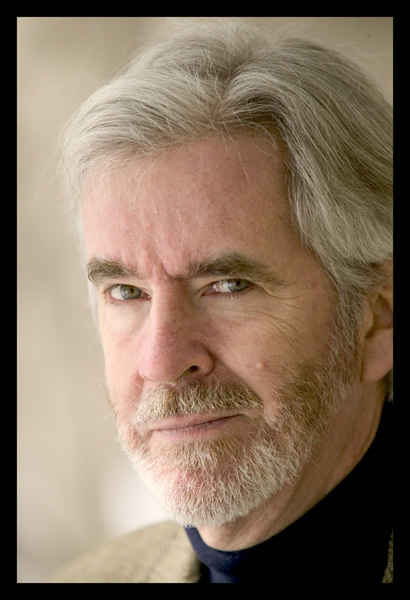 Christopher Lydon, host of "Open Source," Brown University
HOPE: On Tuesday, Oct. 6, at 7:30 pm in Wellesley's Collins Cinema, "HOPE: An Evening with Kwame Dawes and Christopher Lydon," will feature a reading of poems about HIV and AIDS in Jamaica followed by a philosophical discussion about the human capacity to generate optimism in difficult times. Born in Ghana and raised in Jamaica, Dawes is the distinguished poet in residence at the University of South Carolina. Lydon is the host of "Open Source," the local/global, broadcast/Internet radio conversation based at Brown University's Watson Institute and former anchor of "The Connection" on public radio in Boston.
HOPE will feature poetry, still images and a recorded score that draws upon European classical and American folk traditions.
Kwame Dawes, distinguished poet in residence, University of South Carolina
Dawes will read from his 14th collection of poetry, "Hope's Hospice," which was inspired by a journey to Jamaica to report on HIV and AIDS for the Pulitzer Center for Crisis Reporting. Audio files of the poems are available on the Web site http://livehopelove.com, which won an Emmy Sept. 21 in the new media category for New Approaches to News and Documentary Programming: Arts, Lifestyle & Culture.
"October will bring to Wellesley's Newhouse Center the extraordinary combined talents of two of the most captivating voices of the contemporary African and Caribbean diasporic literary tradition," said Carol Dougherty, the Center's new director. "Both events bring music, language and a flair for the dramatic together in the kind of innovative, hybrid performance formats that we hope to encourage at the Newhouse Center for the Humanities."
The Newhouse Center for the Humanities was established by a generous gift from Susan and Donald Newhouse in 2004. The Center aims to enrich the intellectual life of the Wellesley College community and to promote excellence and innovation in humanistic studies.
For a map of Wellesley College, go to http://new.wellesley.edu/CampusMaps/. Parking is available in the Davis Parking Facility.
Since 1875, Wellesley College has been a leader in providing an excellent liberal arts education for women who will make a difference in the world. Its 500-acre campus near Boston is home to 2,300 undergraduate students from all 50 states and 68 countries.
###