Wellesley's Wilbur Rich Wins Career Achievement Award
for Study of City Politics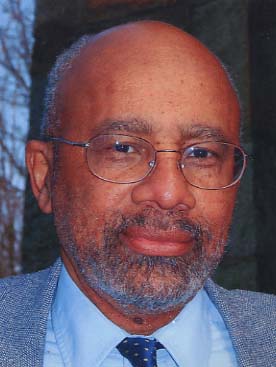 SCHOLARLY AWARD: Wilbur C. Rich, professor of political science, earned a Long Career Achievement Award from the American Political Science Association.
WELLESLEY, Mass. – City politics have provided Wilbur C. Rich with a most satisfying career as a professor of political science. Now they have brought him honors for a lifetime of achievement.
Wellesley College's William R. Kenan Jr. professor of political science, Rich has been awarded the Norton Long Career Achievement Award from the American Political Science Association (APSA) at its 2009 annual meeting this month.
The award is given biennially to a senior political scientist who has made a major scholarly contribution to the study of urban politics.
"I love cities," Rich said. "They have produced some of our most colorful political personalities. I have been fortunate in my life to meet some of them. They have enriched my work."
Calling the award "quite a surprise," he said, "I got a call to send a résumé and I was called later that month congratulating me. The award is based on an accumulation of my work on cities. They gave me a great plaque. In academe, that is as good as it gets."

At Wellesley, Rich teaches courses in "American Presidential Politics," "Urban Politics," "Public Policy Analysis," "The Politics of Urban Public Schools" and "The Politics of Minority Groups in the United States."

LIFELONG INFLUENCE: "This is a great honor for me," he said. "To be mentioned in the same sentence as some of the greats in the field is something I never expected. Norton Long, an icon in urban politics, was a professor at University of Illinois when I was graduate student. He did not stay long so I never took any courses from him, but I have been influenced by his iconoclastic approach to the study of American cities."
A member of the Wellesley College faculty since 1991, Rich received a B.S. degree from Tuskegee Institute and Ed.M. and Ph.D. degrees from the University of Illinois at Urbana.
"The secret of an interesting career is to be in the right place at the right time," Rich said. "I taught at universities in New York and Detroit during critical times. I still write about these two cities. Boston is also a great city to study and to write about."

Formerly on the faculty of Wayne State University, he also taught at Columbia University in New York. He was the 1989-90 winner of the Wayne State University Career Development Chair Award, and has also been awarded the NYASPA Award for Outstanding Contribution to Furtherance of Professional Dialogue in Public Administration. In 2000-2001 he was appointed a visiting scholar at the Russell Sage Foundation.
Listed in Who's Who Among Black Americans, his research focuses on minority participation in American government and on American public policy. He also writes about organization behavior, political communication, public school politics and urban management.

His book, Black Mayors and School Politics: The Failure of School Reform in Detroit, Gary and Newark, was named the outstanding book of 1997 by the National Conference of Black Political Scientists. His most recent books are David Dinkins and New York Politics: Race, Images and the Media (2006) and his edited collection of essays, African American Perspectives on the Political Science Discipline (2007). These are among the 10 books he has either written or edited. In addition, he has published numerous journal articles and book chapters.

Rich has served as president of the Northeastern Political Science Association (1999-2000); president of the Urban Section, American Political Science Association (2006-2007), president of New England Political Science Association (2008-2009), and is a member of the American Society for Public Administration, Urban Affairs Association, American Educational Research Association, Eastern Educational Research Association, Eastern Communication Association and the National Conference of Black Political Scientists.

The APSA meeting was held Sept. 3-6 in Toronto, Ontario. Members of the Norton Long award committee were Marion Orr of Brown University, Richard Stren of the University of Toronto and Hank Savitch of the University of Louisville.
Since 1875, Wellesley College has been a leader in providing an excellent liberal arts education for women who will make a difference in the world. Its 500-acre campus near Boston is home to 2,300 undergraduate students from all 50 states and 68 countries.
###