Wellesley Celebrates Indian Dance and Fine Arts
WELLESLEY, Mass. – The 3,000-year-old Indian dance form Bharatnatyam, known for its beauty, grace and elegance, remains popular today with contemporary audiences and performers.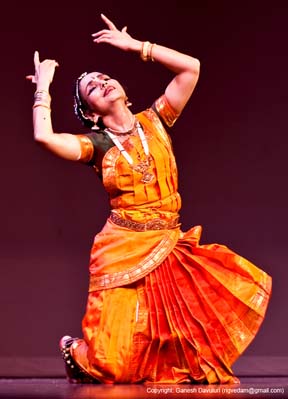 Dancer Jothi Raghavan will perform the popular Indian dance style Bharatnatyam during
"Human Love, Divine
Beloved — Performing Love Poems to God"
Sept. 29.
Dancer and choreographer Jothi Raghavan will perform this popular Indian style of dance during the program, "Human Love, Divine Beloved — Performing Love Poems to God," Tuesday, Sept. 29, at 7 pm in the Houghton Chapel at Wellesley College. Indian food will be served at 6 pm in the lower chapel of the Multifaith Center. The event is free and open to the public.
Raghavan will present her original work, "Godha — A Love Story," to mystic saint-poetess Andal's passionate verses expressing her love to god Narayana.
The performance will follow a reading of mystical poetry from diverse poets around the world — including John of the Cross, a Christian from Spain, and Jalaluddin Rumi, an Islamic Sufi from Persia — who use romantic love as a metaphor for devotion.

Raghavan established and serves as the artistic director for the Academy of Indian Arts, which strives to promote Indian fine arts in New England. India and the United States. She is the recipient of many awards, including the Choreographers Fellowship from The National Endowment for the Arts.

The event is sponsored by the South Asia Studies Program at Wellesley College.

Since 1875, Wellesley College has been a leader in providing an excellent liberal arts education for women who will make a difference in the world. Its 500-acre campus near Boston is home to 2,300 undergraduate students from all 50 states and 68 countries. For more information, go to www.wellesley.edu.
###