Wellesley College Science Center Wins Prestigious Award
Harry Clark, left, receives the ACS 2009 College Award, from Doug Walters.
WELLESLEY, Mass. – The Wellesley College Science Center is the year's sole recipient of the American Chemical Society (ACS) Division of Chemical Health and Safety (CHAS) 2009 College Award. This prestigious award was established by the ACS to recognize a college that has an outstanding and comprehensive laboratory health and safety program.
To be considered for the award, the Science Center was required to define and demonstrate its success in developing and implementing a sustainable and comprehensive laboratory health and safety program. The report spanned 10 categories including detailed evidence that safety, health and environmental practices and procedures are incorporated routinely into daily laboratory operations.
The award consisted of a plaque, $1,000 from the National Institute for Occupational Safety and Health and $500 from CHAS for travel to the Washington, D.C., ACS meeting. The award was presented to Harry Clark, the Science Center's chemical hygiene officer.
At the meeting, Nick Doe, instructor in the Wellesley Chemistry Department and member of the Science Center Safety Committee, presented "Challenges Facing Small Colleges: One College's Approach," a report describing why the Wellesley College Science Center program is so successful.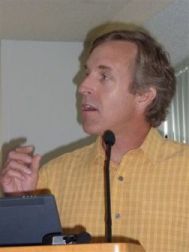 Nick Doe presenting "Challenges Facing Small Colleges: One College's Approach."
"The theme of my presentation was how one college's science departments decided that control and responsibility for their EHS program should be done at the local level," Doe said. "The talk emphasized the importance of faculty and staff involvement in our science center safety program. An active safety committee, administrative support, a dedicated chemical hygiene officer, required online chemical hygiene plan training, judicious use of consultants, and a college-wide EHS department for support were also described."
The health and safety program is supported by the Science Center Safety Committee, including Clark; Doe; Gary Harris, chair, biology; Roz White, Science Center administrator; Becky Mattison, geoscience; Tom Bauer, physics; Tony Antonucci, green house; Michael Wiest, neuroscience; Suzanne Howard, EHS director; and consultant Lou DiBerardinis.
"Receiving a notable award such as this clearly indicates that the College's commitment to excellence in its EHS operations has yielded positive results and worthy recognition," said DiBerardinis, director of the EHS Office at MIT and advisor to Wellesley's Science Center.
Since 1875, Wellesley College has been a leader in providing an excellent liberal arts education for women who will make a difference in the world. Its 500-acre campus near Boston is home to 2,300 undergraduate students from all 50 states and 68 countries.
###