Wellesley College Toasts the 100th Birthday
of the Margaret Clapp Library


WELLESLEY, Mass. -- In 1875, Wellesley College founder Henry Fowle Durant donated 8,000 books from his private collection to found the school's library. The collection would continue to grow, and in 1909, the Margaret Clapp Library was built to house the many collections and resources the college had accumulated.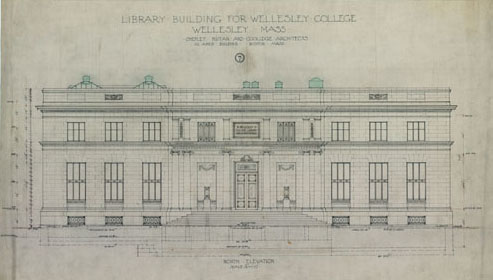 The Wellesley College community will take a retrospective look
at the last century of the library's building, people and functions.
Wellesley will toast the 100th birthday of the library with a centennial celebration Wednesday, Oct. 21, at 4 pm in the library lobby and the Crozier Reference Room. The party will also mark the 25th anniversary of the Wellesley College Friends of the Library.
Highlights of the event will include remarks by President H. Kim Bottomly and others, refreshments and birthday cake, and a photo exhibition that will take a retrospective look at the last century of the building, its people and functions.
The interior and exterior photos of the library, dating from 1910, will show the architectural changes to the building, and students and librarians doing the behind-the-scenes work of the library, including cataloguing and acquisitions. A case of objects — including a typewriter, handwritten and typed old catalogue cards, rubber stamps and bar codes — will show how the work of the library has changed over the years. The changing format of the government publication, The Journal of the House of Representatives, from paper text to microfiche to CD-ROM to electronic resource, will be showcased.
The event will culminate with the unveiling of a specially commissioned commemorative poster, created by graphic designer and illustrator Lance Hidy. Complimentary copies of the poster will be given to attendees and a deluxe inkjet printed edition, signed by the artist, will be available for purchase. Proceeds will support the library in its second century.
"The poster is a time piece," said Ruth Rogers, special collections librarian at Wellesley. "It is contemporary in the way the students look, but also very respectful of the architecture of the library." For more information, visit www.wellesley.edu/Library/Centennial/centennial.html.
Wellesley College has been a leader in liberal arts and the education of women for more than 130 years. The College's 500-acre campus near Boston is home to 2,300 undergraduate students from 50 states and more than 65 countries.
###