Oh, The Places You'll Go
Wellesley College Celebrates a World of Learning at Tanner Conference Nov. 3
WELLESLEY, Mass.— While studying abroad in the south of France, Wellesley College senior Hilary Gram read scripts, attended screenings and worked on publicity for films including Inglourious Basterds for the Cannes Film Festival, one of the world's most prestigious film competitions. Meanwhile, in Kyoto, Japan, senior Amber Cabrera was exploring the world of Japanese tattoo, its cultural stigma and association with the Yakuza, the Japanese Mafia.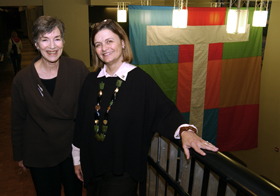 Above: Wellesley College trustee Nicki Tanner '57 (left) and President H. Kim Bottomly. Below: Students perform at the annual Tanner Conference.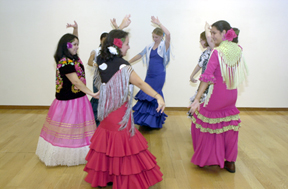 Both students will discuss their experiences Tuesday, Nov. 3, at the annual Tanner Conference on the Wellesley College campus, a day-long event held in several locations. The conference will bring together students, faculty, staff and alumnae as they share their off-campus journeys. With projects ranging from "Hip-Hop and Toy Guns in Palestine" to "Stuck in the Mucky-Muck: Adventures in Cape Cod Salt Marsh Research," Wellesley travelers return to discuss their experiences with the community. The conference is free and open to the public.
Many of this year's presentations will also deal with the realities and crises of today's world.
Presenter Tess DeLean, a Wellesley junior, was moved to take action after reading newspaper reports about the impact of real-estate foreclosures in Massachusetts, and learning more about the crisis in her economics courses. She decided to address the issue head-on as an intern with the Neighborhood Stabilization Program at Boston Community Capital this summer.
"My summer at Boston Community Capital gave me a completely different perspective on the financial crisis and the importance of innovation in developing solutions," she said. "Working on the Neighborhood Stabilization Program was the first time I had encountered a response that focused on the individual and community level."
As the H1N1 virus has reached pandemic proportions, a panel of Wellesley biology, sociology and economics faculty, as well as health services staff, will discuss a range of issues surrounding the "swine flu" and other historic outbreaks during "Pandemics: 'In the Distraction of This Madding Fever,' What is the World to Do?" Topics will include the biology of the H1N1 virus; the social and economic impacts of a pandemic; and the logistics of containing and treating an outbreak locally, nationally and internationally.
This year's conference represents the work of nearly 300 students, faculty, alumnae and staff. The annual event was established in 2001 through the generosity of Wellesley trustee Estelle "Nicki" Newman Tanner '57.To read more about the Tanner Conference and get a full schedule of presentations, visit www.wellesley.edu/CWS/Tanner/.
Since 1875, Wellesley College has been a leader in providing an excellent liberal arts education for women who will make a difference in the world. Its 500-acre campus near Boston is home to 2,300 undergraduate students from all 50 states and 68 countries.
###