Wellesley College Hosts Series of Events on the Future of Food

WELLESLEY, Mass.— How can we improve agriculture in Africa? How is livestock production in the United States affecting public health? Should I buy organic or locally grown food?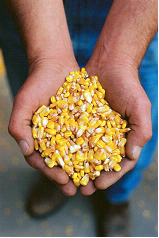 Faculty from a variety of disciplines, perspectives and local colleges, will tackle some of the big questions surrounding food and introduce their food-related scholarship during the "Symposium of Locals" Saturday, Nov. 7, at 1 pm in Tishman Commons, Wang Campus Center, on the Wellesley College campus.
"The Center for the Environment is aiming to bring together people with shared interests to foster collaboration across disciplines on topics related to the environment," said panelist Kristina Jones, assistant professor of biological sciences and director of the botanical gardens at Wellesley. "The first focal topic is the future of food, and we are thrilled to have faculty from six departments plus Babson and Brandeis as well as students from all kinds of majors participating in the conversation at the symposium."
Anthropologist Adam Van Arsdale's interest in the future of food stems from his study of the evolutionary origins of human dietary patterns.
"My research centers on the evolutionary origin of our genus, Homo, and its subsequent expansion out of Africa and into Eurasia around 2 million years ago," said Van Arsdale, assistant professor of anthropology at Wellesley. "This time period represents a major transition of the human ecological niche and marks the beginning of an ever-changing human evolutionary landscape as it relates to diet and ecology, a process which in many ways can be traced all the way to contemporary food production and consumption practices."
Stacy Sneeringer, assistant professor of economics at Wellesley, will speak on the public health effects and environmental regulation of large-scale livestock production. She is currently on sabbatical at the U.S. Department of Agriculture's Economic Research Service.
Other professors who will talk about food-related interests are Jim Besancon, geosciences, Wellesley; Dan Brabander, geosciences, Wellesley, Beth DeSombre, political science and environmental science, Wellesley; Brian Donahue, American environmetal studies, Brandeis University; Toni Lester, law, Babson College; Robert Paarlberg, political science, Wellesley; and Jay Turner, environmental science, Wellesley. The event will conclude with a harvest supper and student poster session.
The symposium comes as part of the Wellesley College Center for the Environment's fall series, "The Future of Food." All events are free and open to the public.
Dave Jacke, author of Edible Forest Gardening and a permaculture expert, will discuss the "edible forest gardening" project he is leading in the Wellesley Botanical Gardens, as well as permaculture in general, on Tuesday, Nov. 10, at 4:10 pm in Science Center 396.
Hilde Steffey, program director at Farm Aid, where she spearheads the organization's policy work, will speak on current federal agricultural policy and how to promote sustainability during a talk Tuesday, Nov. 17, at 4:10 pm in Science Center 278.
The series will conclude with a greenhouse light show, "The Spice of Light," Thursday, Dec. 3, at 6 pm. For more information, call (781) 283-2800.
Since 1875, Wellesley College has been a leader in providing an excellent liberal arts education for women who will make a difference in the world. Its 500-acre campus near Boston is home to 2,300 undergraduate students from all 50 states and 68 countries.
###